Rocky Horror is BACK!
October 14, 2021

-

October 31, 2021

| $20 – $35
EXTENDED THROUGH NOVEMBER 5TH!
Join us for a science fiction double feature!
Starring Peter Mill as Frank 'N' Furter (Elliot Norton Award Nominee- Outstanding Musical Performance 2019)
Back by popular demand, Moonbox Productions will perform Richard O'Brien's legendary cult classic, The Rocky Horror Show, at a pop-up theater in Harvard Square. Directed by David Lucey, and Music Directed by Mindy Cimini, The Rocky Horror Show opens on October 16th will run through October 31st back at "The Lab" @ 25 Brattle Street in Cambridge, MA.
A humorous tribute to the science fiction and horror B movies of the late 1940s through to the early 1970s, The Rocky Horror Show tells the story of Brad Majors and his fiancée, Janet Weiss, who get caught in a thunderstorm with a flat-tire and are forced to seek help at the castle of Dr. Frank 'N' Furter, a transvestite scientist with a manic genius and insatiable libido. Brad, Janet, and Frank' N' Furter's cohorts are swept up into the scientist's latest experiment, a Frankenstein-style monster in the form of an artificially made, fully grown, physically perfect muscle man named Rocky Horror, complete "with blond hair and a tan". The night's misadventures will cause Brad and Janet to question everything they've known about themselves, each other, love, and lust. With an irresistible rock 'n' roll score, The Rocky Horror Show is a hilarious, wild ride, that no audience will soon forget.

In order to keep all audience and cast members safe while in our spaces, tickets are limited.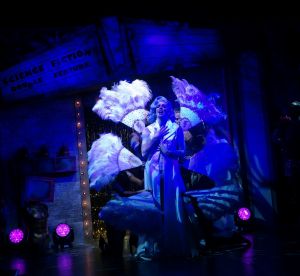 Please Support Our Website Sponsors.
Thank you!