Masters of Hawaiian Music at Passim
January 12, 2020 @ 5:00 pm
| $30 – $32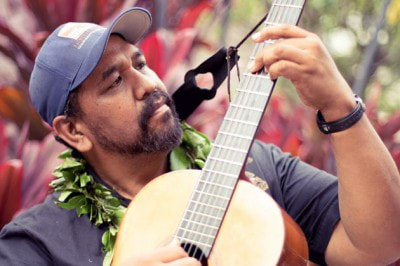 Three Slack Key Guitar Masters, featured regularly at Maui's renowned "Slack Key Show®" share Hawai'i's unique folk styles, with origins in the early 19th century Hawaiian paniolo (cowboy) culture and evolving into one of the signature sounds of contemporary Hawaiian music:
Four-time Grammy-winner George Kahumoku Jr., National Heritage Fellow Led Kaapana, known for his exceptional picking style on guitar and 'ukulele, and Na Hoku award-winner for slack key and island music Kawika Kahiapo come together for an evening of songs, stories, and Hawaiian aloha.
GEORGE KAHUMOKU JR.
Known as Hawaii's Renaissance Man, George Kahumoku Jr, is a multiple Grammy & Hoku Award winning master Slack Key Guitarist, vocalist, songwriter, performer, teacher, artist and sculptor, story-teller and writer, farmer and entrepreneur.  George is known for playing slack key on a jumbo12-string guitar because he loves the full sound and the lower bass tones. He uses a custom Art Davis guitar, and since beginning the Slack Key Show seven years ago, has changed his favorite tuning from E flat to F to make it easier to play with others.
In October 2003, George co-created the first venue ever dedicated to presenting Hawaiian Slack Key Guitar. First located at the Ritz Carlton-Kapalua, then moving to Maui's Napili Kai Beach Resort where it is now. The first show CD, produced from live recordings of the show, Masters of Hawaiian Slack Key Guitar, Vol. 1: Live in Concert from Maui won the 48th Grammy Award for Best Hawaiian Album. The 4 of the 5 sequels to this recording were all nominated, 3 of them winning Grammies.
A renowned story-teller on and off the stage, George collaborated with long-time friend, Paul Konwiser, to write down his entertaining semi-autobiographical short stories into his first book of short stories: A Hawaiian Life.
LED KAAPANA
Led Kaapana's mastery of stringed instruments, particularly slack key guitar, and his extraordinary baritone and leo ki`eki`e (falsetto) voices, have made him a musical legend. He has been thrilling audiences for more than 40 years. With easy-going style and kolohe (rascal) charm, he has built a loyal corps of Led Heads from Brussels to his birthplace on the Big Island of Hawaii. Recognition by his peers earned Led 4 Grammy nominations in his own right and 2 wins on slack key compilations.
Like so many Hawaiians, Led grew up in a musical family. In the tiny black sand bay village of Kalapana, there were few distractions. "We didn't have electricity, no television, not even much radio," says Led. "So we entertained ourselves. You could go to any house and everybody was playing music."
Often everybody was playing music at a backyard party, many of which lasted for days. "People played in shifts, taking over when somebody went to sleep," Led recalls. "You'd fall asleep to the music, wake up….and the music was still playing. That was the best alarm clock I ever had!"
It was at these family gatherings that Led learned to play in the old style, watching, listening, then imitating. Chief among his teachers were his mother, Mama Tina Kaapana, and his uncle Fred Punahoa.  "Even today when I play, I still picture all the `ohana (family) getting together and sharing their songs and their aloha."
Although isolated, outside influences did creep into Kalapana. Like most kids his age, Led loved to rock and roll and also listened to country, jazz, and Latin music. When he'd sneak a riff from a guitar hit of the day, like Pipeline or Walk Don't Run, into his music his dad would tease, "Hey, that's not slack key!" But nobody ever stopped him, they just encouraged him to "play what you feel and play with aloha."
KAWIKA KAHIAPO
Though now living in beautiful Waimānalo, Kawika grew up in the small town of Kane`ohe on the windward side of O`ahu. One cannot think about the windward side without images of the breathtaking Ko`olau mountain range, lush, green valleys and the magnificent ocean views. Born to Samuel (Uncle Sam) and Josephine (Aunty Jo) Kahiapo, Kawika is the 5th of 6 children. Kawika's interest in music began at an early age, when, inspired by his father, he spent many hours alone in his room strumming along.  Some of his fondest memories are of their "garage" jam sessions, when "Pops" Gabby Pahinui would show up with his guitar and bottle of vodka. This is what inspired Kawika's passion for ki ho`alu (slack-key guitar). Today, Kawika continues to perpetuate the art of ki ho`alu in his sound recordings and annually at Slack Key Festivals. He was honored as the 2007 Na Hoku Hanohano Slack Key Artist of the year.
Kawika's first solo recording project, "ALANA", emerged in 1996 and continues to captivate many with it's soothing combination of contemporary and traditional Hawaiian tunes, along with ki ho`alu. Through the years, hula halau have been dancing to the music on this recording, as well as his second solo release, "ONE HEART/ONE VOICE", which was released in 2000. Both projects share his mana`o (feelings) in Kawika's unique way.  Kawika was then a member of  "Kaukahi", who received three awards at the prestigious 2007 Na Hoku Hanohano Awards. They were awarded Group of the Year, Song of the Year for Kawika's "Life in These Islands", which is the title cut and name of their debut CD, and Kawika's son, Dalen Kahiapo, and Todd Schlosser of Worldsound, were presented the Award for CD graphics!  Kawika was also been honored to be featured on Grammy Award Winning CD, "Masters of Hawaiian Slack Key."  He also was awarded with two more Na Hoku Hanohano Awards in 2015 for his all slack key, mostly instrumental CD, "Ho'omaluhia", and his "Ku'u 'Aina Aloha" CD, which features his song titled "Waimanalo."
Please Support Our Website Sponsors.
Thank you!