Lawrence Lessig at Harvard Book Store
November 5, 2019 @ 6:00 pm

-

8:00 pm

| $6 – $30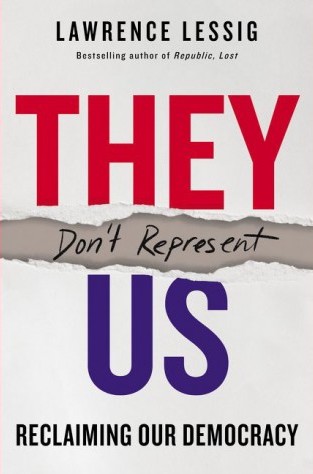 Details
Date:

November 5, 2019

Time:

6:00 pm - 8:00 pm

Cost:

$6 – $30

Event Category:
Venue
1256 Massachusetts Ave




Cambridge

,

MA

02138

United States

+ Google Map

Phone:

617-661-1515

Website:
Harvard Book Store and Harvard's Edmond J. Safra Center for Ethics welcome renowned author and Harvard law professor LAWRENCE LESSIG for a discussion of his latest book, They Don't Represent Us: Reclaiming Our Democracy.
About They Don't Represent Us
America's democracy is in crisis. Along many dimensions, a single flaw—unrepresentativeness—has detached our government from the people. And as a people, our fractured partisanship and ignorance on critical issues drives our leaders to stake out ever more extreme positions.
In They Don't Represent Us, Harvard law professor Lawrence Lessig charts the way in which the fundamental institutions of our democracy, including our media, respond to narrow interests rather than to the needs and wishes of the nation's citizenry. But the blame does not only lie with "them"—Washington's politicians and power brokers, Lessig argues. The problem is also "us." "We the people" are increasingly uninformed about the issues, while ubiquitous political polling exacerbates the problem, reflecting and normalizing our ignorance and feeding it back into the system as representative of our will.
What we need, Lessig contends, is a series of reforms, from governmental institutions to the public itself, including:
—A move immediately to public campaign funding, leading to more representative candidates
—A reformed Electoral College, that gives the President a reason to represent America as a whole
—A federal standard to end partisan gerrymandering in the states A radically reformed Senate
—A federal penalty on states that don't secure to their people an equal freedom to vote
—Institutions that empower the people to speak in an informed and deliberative way
A soul-searching and incisive examination of our failing political culture, this nonpartisan call to arms speaks to every citizen, offering a far-reaching platform for reform that could save our democracy and make it work for all of us.
Praise for They Don't Represent Us
"Lessig shines as one of democracy's most passionate and complex thinkers. . . . His book is a love letter to the American people and a down-to-earth blueprint of an evolving future in which we work together to fulfill the promise of humanity's most important idea: We the people are endowed with the inalienable right to rule ourselves, free from the tyranny of kings, dictators, plutocrats, or computers." —Shoshana Zuboff, bestselling author of The Age of Surveillance Capitalism and Professor Emerita, Harvard Business School
"Lessig, a leading proponent of campaign finance reform, now aims at something even bigger: fixing our broken system of representative democracy. This book is brimming with promising and provocative proposals to fix campaign finance, gerrymandering, the electoral college, the filibuster, and the mind-numbing effects of cable news and social media. It is a bold and bracing repair manual for government of, by, and for the people." —Michael J. Sandel, bestselling author of What Money Can't Buy
"Lessig is right that a representative American democracy, desirable in itself, would also solve most of the problems that now seem insoluble. It is hard to imagine a more thoughtful and appealing companion in the hard work to move our system to where it ought to be: in our own hands." —Timothy Snyder, bestselling author of On Tyranny and The Road to Unfreedom
Please Support Our Website Sponsors.
Thank you!