Join Capital One's Conversation on "The Intersection of Well Being & Money"
May 12, 2022 @ 8:00 pm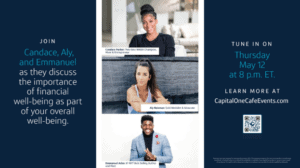 The virtual platform includes:
The virtual event series, hosted by Candace Parker, WNBA player, mom and entrepreneur, includes both live streamed and pre-recorded content that features conversations with and a diverse group of influential voices, our Cafe Ambassadors and Money & Life Mentors.

Topics include how to align your money with the causes you believe in; how to have open and healthy conversations about money within your relationships; and how to find balance both in life and within your finances.
Please Support Our Website Sponsors.
Thank you!