Jeffrey & Aaron Halford and Mickelson
September 8, 2019 @ 8:00 pm
| $10 – $12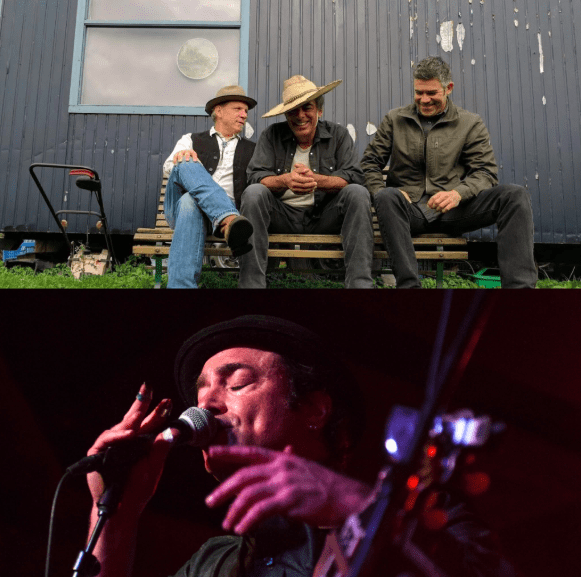 JEFFREY & AARON HALFORD
It's nearly impossible to describe this artist's musicality in a few limiting words. Jeffrey Halford, Americana singer/songwriter, establishes a special connection with fans through his soulful fusion of folk, rock, country and blues. Jeffrey Halford and his band the Healers continue their tour nationwide and internationally in support of their recent record 'West Towards South' which was released through Floating Records.
Atmospheric, funky, rustic, and raw this is narrative Americana at its finest; poetic story songs delivered with the voice of authenticity, sitting atop a moody bed of dirty slide guitars, organic drums, and swampy bass. Subtle touches of violin, piano, and lap steel adorn a song cycle that chronicles the westbound adventures of two mythic brothers in an equally mythic America. Jeffrey with co-writer Don Zimmer and Adam Rossi (band member, co-producer) created a genuine Americana concept album that is simultaneously devoid of pretension, and richly authentic. The album already received acclaim by Rolling Stone, LA Music Critic, Middle Tennessee Music and many others.
Over the last 25 years, Jeffrey Halford and the Healers have played shows with some of music's most acclaimed artists and songwriters, as well as Halford's influences, such as Taj Mahal, Los Lobos, George Thorogood, Gregg Allman, Etta James, John Hammond, and Texas Greats Augie Meyers, Guy Clark and Robert Earl Keen.
MICKELSON
Scott Mickelson is an artist/producer from the Bay Area. His debut release Flickering was on the Grammy ballot for Best Folk Album and Best Roots Music Performance. His follow up full-length A Wondrous Life is receiving great reviews in the US and abroad. Mickelson will be playing his first European tour this Fall.
Mickelson has appeared in NPR Radio, Huffington Post, CBS Morning Show, No Depression, Glide Magazine, Paste Magazine, PopMatters, TheBayBridged, Alternative Press Magazine, San Francisco Chronicle, etc. He also gained national recognition after winning a band search contest sponsored by MTV/7-Up with a prize of $15,000 and a song in the feature film Along The Way.
Mickelson has opened for acts that include David Bromberg Quintet, Matt Nathanson, Larry Campbell and Terese Williams (Grammy producer), Jim Lauderdale (Grammy artist), Griffin House, Nick Lowe, Dr. John, Smashmouth, Jonathan Richman, Peter Case.
"this music is the balance between strong, subtle, unexpected, and sophisticated." – Paste Magazine
"With a howling voice that echoes heartland heroes like Bruce Springsteen or John Mellencamp, Mickelson keeps it exciting on his latest "Hail Marys," showing off power pop tendencies similar to Big Star while staying true to folk music spirit". – SF Weekly
"It's American folk-Rock with a post punk edge, rustic but scarred." – Alternative Press Magazine
Please Support Our Website Sponsors.
Thank you!