HER CROOKED HEART with Rose Polenzani
August 18, 2019 @ 8:00 pm
| $15 – $18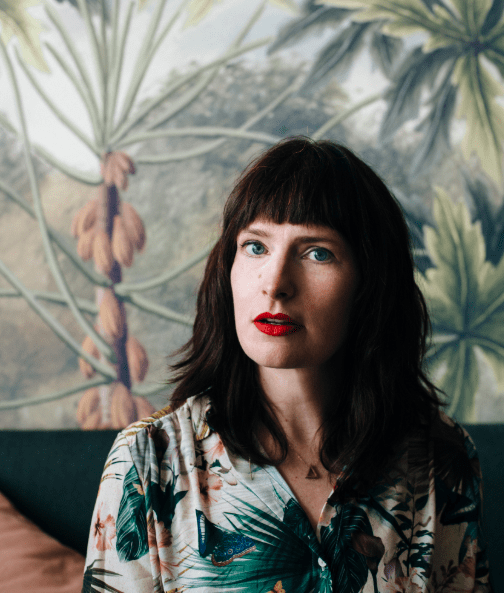 With To Love To Leave To Live, Minneapolis-based Her Crooked Heart presents a debut record unique in form, made up of cyclical narratives and intertwining histories, each informing the next. The result is a transformative song cycle, led by a charismatic personality, wholly indifferent to expectations of genre and instrumentation. Rachel Ries, the writer, multi-instrumentalist and producer behind Her Crooked Heart, demonstrates immense vulnerability and multifaceted musical craftsmanship to deliver a personal and profound musical soliloquy on love, leaving and the life that follows after burning it all down.
To bring these songs and this record to the stage, Ries has enlisted a powerful group of women; women who can, in their way, take on the feminine, humanist mantle of Her Crooked Heart and make it their own: Siri Undlin (Humbird), Adelyn Strei (Adro), Hilary James (We are the Willows, Bathtub Cig). The quartet blends classical and electric guitar; piano and vintage synths; cello, woodwinds and drum triggers. This merging of acoustic and synthetic sounds is all in service of the voice: four part vocal harmonies that shift from ethereal to an elemental wail, always telling a story of transformation.
In 2013, after two and a half years of marriage, Ries found herself touring a record around the world, accompanied by a stack of divorce papers in a pocket of her suitcase. She had left her marriage and a good man in New York City and leapt into the untethered unknown. What transpired was in turns euphoria and despondence; old lessons learned in new ways. The songs on To Love To Leave To Live are a compassionate and at times wry catalogue of those tumultuous years, unflinchingly captured in the studio with co-producer Shane Leonard.
ROSE POLENZANI
Rose Polenzani was born in the midwest to a musical family, learning harmony at her parents' knee, hiding out under the family piano; she was always surrounded by music.
She began writing songs in college, and left school to start her life as a singer-songwriter. She was discovered by Amy Ray of the Indigo Girls, signed to Ray's Daemon Records for two releases, and spent a decade touring the US, supporting such acts as the Indigo Girls, Over the Rhine, Joan Baez, David Gray, and Freedy Johnston. Though she started as a solo act, collaboration has become the driving force behind her songwriting, as evidenced by her recent work in Wintery Songs in Eleventy Part Harmony, the Sub Rosa collective, and her lush, live-in-studio recordings "The Rabbit" (2011) and "When the River Meets the Sea" (2006).
Please Support Our Website Sponsors.
Thank you!