Harvard Book Store Virtual Event: Rita Colwell
September 4, 2020 @ 7:00 pm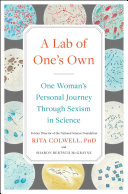 Details
Date:

September 4, 2020

Time:

7:00 pm

Event Categories:

Website:
Venue
1256 Massachusetts Ave




Cambridge

,

MA

02138

United States

+ Google Map

Phone:

617-661-1515

Website:
presenting A Lab of One's Own: One Woman's Personal Journey Through Sexism in Science
Harvard Book Store's virtual event series, the Harvard University Division of Science, and the Harvard Library welcome RITA COLWELL—pioneering microbiologist and former director of the National Science Foundation—for a discussion of her book A Lab of One's Own: One Woman's Personal Journey Through Sexism in Science.
Contribute to Support Harvard Book Store
While payment is not required, we are suggesting a $3 contribution to support this author series, our staff, and the future of Harvard Book Store—a locally owned, independently run Cambridge institution. In addition, by purchasing a copy of A Lab of One's Own on harvard.com, you support indie bookselling and the writing community during this difficult time.
About A Lab of One's Own
If you think sexism thrives only on Wall Street or in Hollywood, you haven't visited a lab, a science department, a research foundation, or a biotech firm.
Rita Colwell is one of the top scientists in America: the groundbreaking microbiologist who discovered how cholera survives between epidemics and the former head of the National Science Foundation. But when she first applied for a graduate fellowship in bacteriology, she was told, "We don't waste fellowships on women." A lack of support from some male superiors would lead her to change her area of study six times before completing her PhD.
A Lab of One's Own documents all Colwell has seen and heard over her six decades in science, from sexual harassment in the lab to obscure systems blocking women from leading professional organizations or publishing their work. Along the way, she encounters other women pushing back against the status quo, including a group at MIT who revolt when they discover their labs are a fraction of the size of their male colleagues'.
Resistance gave female scientists special gifts: forced to change specialties so many times, they came to see things in a more interdisciplinary way, which turned out to be key to making new discoveries in the twentieth and twenty-first centuries. Colwell would also witness the advances that could be made when men and women worked together—often under her direction, such as when she headed a team that helped to uncover the source of the anthrax used in the 2001 letter attacks.
A Lab of One's Own shares the sheer joy a scientist feels when moving toward a breakthrough, and the thrill of uncovering a whole new generation of female pioneers. But it is also the science book for the #MeToo era, offering an astute diagnosis of how to fix the problem of sexism in science—and a celebration of the women pushing back.
Praise for A Lab of One's Own
"In this, an era of changing climate and sweeping epidemics, we need great scientists more than ever. Yet for generations, women scientists have been under-funded, condescended to, denied jobs and lab space, and robbed of recognition for their discoveries and contributions. Rita Colwell has been a leader in the fight to change all that. You will be riveted by the true story of how she and other women scientists methodically undertook to challenge biases and dismantle barriers, using the classic tools of their discipline: facts, data, measurement, and the persistence to try and try and try yet again." —Liza Mundy, New York Times bestselling author of Code Girls: The Untold Story of the American Women Code Breakers of World War II
"A Lab of One's Own is both a human and a humane story . . . wonderfully readable for scientists and non-scientists alike." —Dr. Hilary Lappin-Scott, OBE, former president of the Society for General Microbiology
"Colwell's behind-closed-doors accounts of seismic events—the Deep Horizon oil spill, anthrax bioterrorism attacks, cholera pandemics, Title IX legislation, and MIT's discrimination against women scientists, to name a few—will inspire generations of scientists to advance knowledge for the greater good." —Dr. Michele Swanson, former president of the American Society for Microbiology
Please Support Our Website Sponsors.
Thank you!