GREAT GOOD FINE OK
April 11, 2022 @ 7:00 pm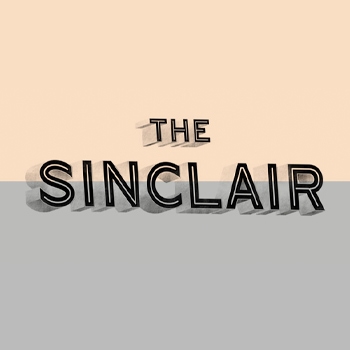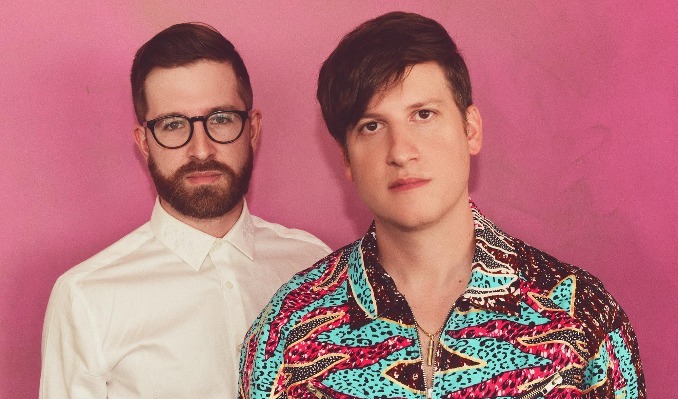 Some opposites do more than just attract. Their coupling incites a spiritual big bang of boundless creativity, endless energy, and inspiration of all kinds. Such a union drives Brooklyn duo Great Good Fine Ok.
At first glance, vocalist Jon Sandler and producer and multi-instrumentalist Luke Moellman seem like a study in contrasts. Often clad in space age glittery jackets (or one of "100 kimonos") and bathed in a laser glow, Sandler's voice stretches from singer-songwriter sensitivity to funky falsetto. Something of an aural mad scientist, Moellman quietly draws on nearly two decades of production experience and an expansive arsenal of instruments—ranging from vintage synths, piano, and guitar to drums, vibraphone, and kalimba.
However, it works flawlessly for them…
"Luke is very much the technical mind, and I'm very much the emotional lyricist," affirms Sandler. "The sum is totally greater than our parts. It couldn't be more of a yin-and-yang situation, but we trust each other and work together so well. The relationship is amazing. It's rare to hear technicality and sensitivity in the same song. It's what we do though."
"I definitely aim for perfectionism and precision," Moellman continues. "At the same time, Jon defines the emotion."
Within 12 hours of meeting during 2013, the musicians recorded a debut viral and critical hit entitled "You're The One For Me." 2014 saw them release a pair of EPs—Body Diamond and 2M2H. Reaching #10 in iTunes Top Dance Albums Chart, the latter would be highlighted by fan favorite anthem "Something To Believe In" [feat. St. Lucia]. Multiplatinum juggernauts The Chainsmokers tapped their talents for "Let You Go," which Great Good Fine Ok not only co-wrote but also featured on.
After logging countless miles on the road alongside the likes of X Ambassadors, Betty Who, Joywave, and Magic Man in addition to selling out three headline tours and performing at Bonnaroo, 2017 represented a high watermark for the boys. The group's third EP, III, spawned the smash "Take It Or Leave It," which became their fourth #1 on Hype Machine and clocked 16 million-plus Spotify streams in under a year. Simultaneously, they teamed up with Before You Exit for "Find Yourself." A veritable smash, it crossed the 30-million-mark on Spotify in under six months.
Along the way, they garnered praise from Entertainment Weekly, Billboard, and Indie Shuffle who claimed, "I dare you to find another group in the past two years who has been so prolific and consistent with their releases while at the same time delivering some of the most heavenly signature falsetto vocals known to man." Meanwhile, the likes of Twenty One Pilots, Foxes, and more have sought them out for remixes.
2018 represents another evolution. Holed up in a cabin on a Catskill Mountains writing retreat, they made a conscious decision to expand the creative palette yet again on their fourth EP.
"Our whole aesthetic has been very spacey," explains Sandler. "We brought in more organic instrumentation. It's like we've been up in the air, traveling through space. With this new material, we've landed on a planet; we are little more human."
"It helped not being in front of the computer," adds Moellman. "Working with synths is more tactile and immediate. We're fusing different worlds. It was okay to evolve the sound of the project."
Cooked up by hand on a classic Juno synthesizer, the first single "Change" builds from an up-tempo verse punctuated by lap steel and kalimba towards a sweeping and soaring refrain.
"'Change' is about finding someone you love and hoping this person doesn't change," says Sandler. "You don't want this particular version of that individual to go away. People are so multidimensional and do change over time. We've all been in relationships that didn't work, because the person might not be who you met."
Elsewhere, the lush follow-up single "Touch" seamlessly incorporates lap steel and acoustic guitar—another sonic first.
"'Touch' is a straight up love song," continues the singer. "Nothing can touch this love I'm writing about. It's so great."
Nothing can touch the chemistry between these two either. Fueled by that interplay, Great Good Fine Ok take pop to a new galaxy.
"When people listen to these songs, I hope they feel something," Sandler leaves off. "Everything came from a very honest and personal place of either feeling joy, sadness, anger, or happiness. Whether you're getting deep to the lyrics or partying, you're taking something away. That's all we could ever ask for."
Moellman concludes, "Ultimately, this music represents the both of us. It's amazing to share what we have with the world."
Please Support Our Website Sponsors.
Thank you!