ELLIE'S ONE-WOMAN WINE TASTING PERFORMANCE at Bonde Fine Wine Shop
July 25, 2022 @ 6:30 pm

-

8:30 pm

| $100
Monday, July 25, 2022 6:30 – 8:30 p.m.
BONDE IS HOSTING A SPECIAL FUNDRAISING PERFORMANCE & WINE CLASS TASTING FOR OUR FRIEND AND LOCAL ARTIST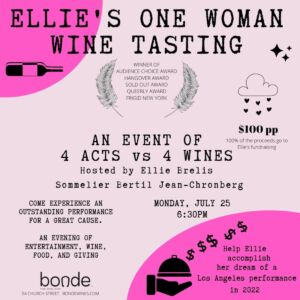 Award-winning performer Ellie Brelis
Sommelier Bertil Jean-Chronberg
$100 pp
Bonde believes…
At Bonde we believe it is important to give back and be active in our community. We at Bonde want to be more than a wine shop, to also be a space for exchange, creation, and recognition of authentic & quality artistic mediums. At Bonde we support authors and their unique senses of expression. We also want to give you the chance to be a part of this – Bonde will happily provide the space, wine, food and our time to allow Ellie to receive 100% of your financial participation in the event.
100% of the ticket benefits Ellie's fundraising for « Driver's Seat » in Los Angeles.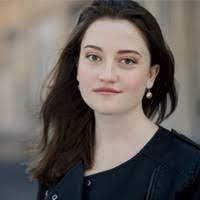 Ellie said…
"I'm working with an award-winning filmmaker and theater director, Kymberly Harriss, and she has some really big ideas for my show! I'm currently working on fundraising 30k to put my show on in Los Angeles this fall to get some buzz going around it before we take it to Edinburgh Fringe Festival in 2023. I was wondering if Bonde would like to sponsor my show by hosting a fundraising event. I've launched an
indiegogo campaign
and I have 55 days to reach my goal.
I've really enjoyed watching our friendship grow over the past year and I'm trying to find meaningful ways to fund my production and thought reaching out to the local businesses I love might be a good idea."
And so Bonde said to Ellie…
Oh, Elll yes!!!!
But who is Ellie?
Ellie is passionate about storytelling as a way to connect with others. She believes that art can be the most powerful tool to help share someone's story that might not have been heard otherwise. Theater gives the opportunity to help shape minds and open hearts. To Ellie, theater is ultimately about the human connection and making people know they are heard and not alone. In 2020 Ellie wrote a solo performance pieced based on her mental health crisis and hospitalization. See more at 
Driver's Seat
. She received her Bachelor of Fine Arts in Acting from Emerson College in Boston Massachusetts. Across the river from her home city of Cambridge. Ellie loves dogs, dancing (poorly), salt water, the band MUNA, and is extremely passionate about ice cream.
So, what is this event?
A convivial evening gathered intimately around the table to share in passion and understanding while eating, drinking, laughing, and learning.
Ellie and Bertil will alternate between 4 performances and 4 bacchanal intermissions.
Please Support Our Website Sponsors.
Thank you!