Christmas Season Performances by The Boys' Choir of Saint Paul's | Harvard Square
December 19, 2021 @ 3:00 pm
3:00pm at The Church of St. Paul's Harvard Square
Saint Paul's Choir of Men and Boys presents a spectacular celebration of Christmas and the holiday season when its beloved "Christmas in Harvard Square" program returns this year with live, in-person concerts on Sundays, December 12th and 19th at 3pm at Saint Paul's Church. The performances feature the boy choristers of Saint Paul's Choir School and the Back Bay Brass ensemble, conducted by SPCS Director of Music James Kennerley.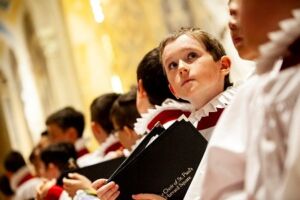 This season's iteration of "Christmas in Harvard Square" features a Christmas program that originates across the globe – including music from Nigeria, Germany, France, the Ukraine, the West Indies, Austria, and Harvard Square itself! Immerse yourself in a holiday tradition like no other and enjoy audience favorites like "Joy to the World", "Carol of the Bells" and "O Holy Night", as well as a medieval French processional hymn, a lively West Indian Calypso carol, and John Rutter's powerful, uplifting work, "Gloria". The boy choristers are joined by the professional male singers from Saint Paul's Choir, an ensemble renowned for its audible beauty and passionate performances. The concert also features audience sing-alongs, accompanied by the virtuosic Back Bay Brass ensemble, together with percussion and the majestic Saint Paul's pipe organ. A cameo appearance by the youngest choristers of the choir delight in a beloved arrangement of "Silent Night", originated by SPCS Founder Theodore Marier.
For additional information and to purchase tickets, please click here.
Please Support Our Website Sponsors.
Thank you!