'Silver Linings: Spotlight on Cambridge Seniors' Gallery Exhibition
December 3, 2022 @ 11:00 am

-

December 28, 2022 @ 5:00 pm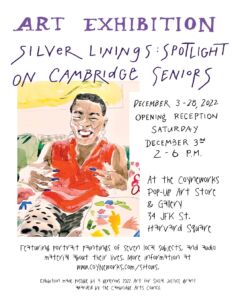 'Silver Linings: Spotlight on Cambridge Seniors' Gallery Exhibition
in Harvard Square
December 3rd – 28th
Opening Reception: Saturday, December 3rd, 2pm – 6pm
Coyneworks and The Harvard Square Business Association are delighted to announce a new gallery exhibit located at 34 JFK Street in the heart of Harvard Square. Artist Susan Coyne will be showing her work in the popup location from December 3rd through December 28th. A special opening reception will take place on Saturday, December 3rd from 2pm – 6pm. Everyone is invited to attend.
"Silver Linings: Spotlight on Cambridge Seniors" is the culmination of the work by one of the 2022 Art for Social Justice grant awardees, artist Susan Coyne. Coyne's lens on social justice focuses on older adults and the maintenance of robust social connection between them and their communities. Every older person has a fascinating story to tell. She interviewed seven local older people, ranging in age from 65 to 100, while collecting audio material about their fascinating lives. From a woman who escaped the Maoist uprisings in post-War China, to a Holocaust survivor and long-term employee of Harvard Square's Window Shoppe, to a social organizer from the Dominican Republic, Coyne includes portraits, biographies, and the voices of seven local subjects in this exhibition.
Coyne stated "I am thankful to John DiGiovanni and the team at Trinity Property Management for providing this location during the holiday season. Please stop by and learn more about my vision and the stories of my subjects. Art makes great gifts and there will be original works and prints available for sale!"
This exhibition is made possible by a generous 2022 Art for Social Justice grant awarded by the Cambridge Arts Council.
In 2022, I was awarded an Art for Social Justice grant by the Cambridge Arts Council. My particular lens on social justice is the maintenance of social connections between older adults (65+) and the surrounding community. I wanted to increase the visibility of older people in Cambridge and to share their stories. To that end, I conducted interviews with seven subjects in spring and summer 2022. I've painted their portraits and made paintings of beloved memories and of their homes. The exhibition includes an online portion featuring short biographies as well as subjects' collected audio material shedding light on their lives.
Please Support Our Website Sponsors.
Thank you!