Anupam B. Jena and Christopher M. Worsham at Harvard Book Store
July 10 @ 7:00 pm
Details
Date:

July 10

Time:

7:00 pm

Event Categories:

Website:
Venue
1256 Massachusetts Ave




Cambridge

,

MA

02138

United States

Phone:

617-661-1515

Website:
Organizer
Phone:

(617) 661-1515

Website:
presenting
Random Acts of Medicine:
The Hidden Forces That Sway Doctors,
Impact Patients, and Shape Our Health 
in conversation with EMILY OSTER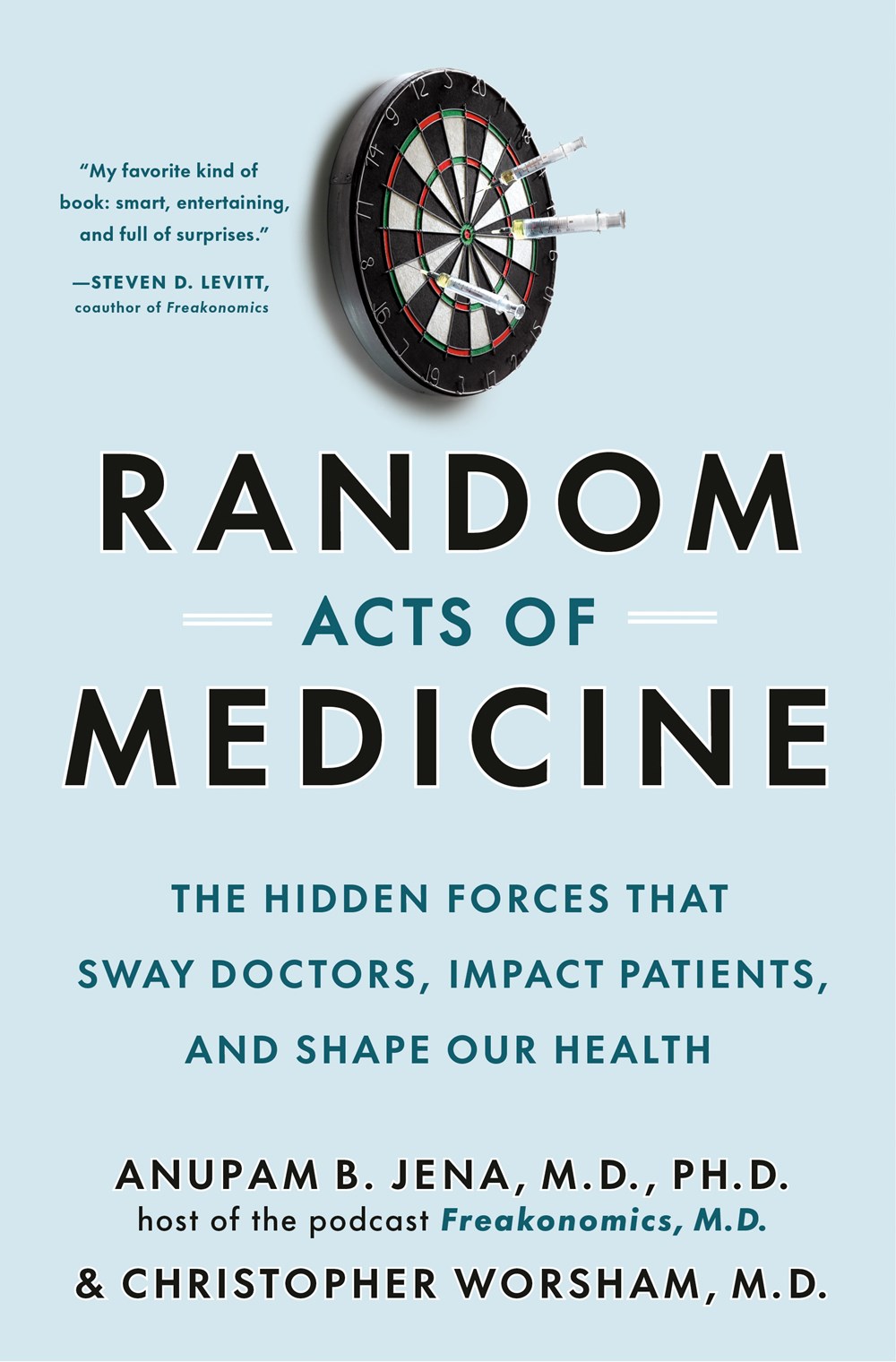 Harvard Book Store welcomes ANUPAM B. JENA, MD, PhD—Harvard professor and host of the Freakonomics, MD podcast—and CHRISTOPHER M. WORSHAM, MD, MPH—researcher, pulmonologist, and critical care physician at Harvard—for a discussion of their new book Random Acts of Medicine: The Hidden Forces That Sway Doctors, Impact Patients, and Shape Our Health. They will be joined in conversation by EMILY OSTER, New York Times bestselling author and Professor of Economics at Brown University.
A Return to In-Person Events
Harvard Book Store is excited to be back to in-person programming. To ensure the safety and comfort of everyone in attendance, the following Covid-19 safety protocols will be in place at all of our Harvard Book Store events until further notice:
Face coverings are required of all staff and attendees when inside the store. Masks must snugly cover nose and mouth.
About Random Acts of Medicine
Why do kids born in the summer get diagnosed more often with A.D.H.D.? How are marathons harmful for your health, even when you're not running? What do surgeons and salesmen have in common? Which annual event made people 30 percent more likely to get COVID-19?
As a University of Chicago–trained economist and Harvard medical school professor and doctor, Anupam Jena is uniquely equipped to answer these questions. And as a critical care doctor at Massachusetts General who researches health care policy, Christopher Worsham confronts their impact on the hospital's sickest patients. In this singular work of science and medicine, Jena and Worsham show us how medicine really works, and its effect on all of us.
Relying on ingeniously devised natural experiments—random events that unknowingly turn us into experimental subjects—Jena and Worsham do more than offer readers colorful stories. They help us see the way our health is shaped by forces invisible to the untrained eye. Is there ever a good time to have a heart attack? Do you choose the veteran doctor or the rookie?  Do you really need the surgery your doctor recommends? These questions are rife with significance; their impact can be life changing. Addressing them in a style that's both animated and enlightening, Random Acts of Medicine empowers you to see past the white coat and find out what really makes medicine work—and how it could work better.
Praise for Random Acts of Medicine
"Random Acts of Medicine is my favorite kind of book: smart, entertaining, and full of surprises. The field of medicine has been slow to appreciate the immense power of natural experiments. Jena and Worsham are on a crusade to change that. Read this book, and you'll be a believer." —Steven D. Levitt, #1 New York Times bestselling co-author of Freakonomics
"It is a rare book that manages to be both fantastically entertaining and deeply thought-provoking. This is such a book." —Emily Oster, New York Times bestselling author of The Family Firm, Cribsheet, and Expecting Better
"Random Acts of Medicine accomplishes the rare feat of delivering important science in page-turning fashion. There's something fascinating on every page. You'll never think about healthcare quite the same way again." —David Epstein, New York Times bestselling author of Range and The Sports Gene
"A charming and informative look at the role of randomness in patients' and doctors' lives—and how natural experiments can turn this randomness into fascinating insights." —Joshua Angrist, winner of the 2021 Nobel Prize in economics
Please Support Our Website Sponsors.
Thank you!