A.R.T. DEBORAH SAMPSON UNVEILED: A VIRTUAL CONVERSATION
April 7, 2021 @ 6:30 pm
Disguising herself as a man in order to fight, Massachusetts native Deborah Sampson (1760 – 1827) is the only woman known to have received a full pension for serving in the Continental Army fighting for American independence. Two years after an honorable discharge, Sampson married, lived as a farmer's wife, and delivered lectures about her military experiences. What drove this Revolutionary's break with tradition? How has our contemporary understanding of gender evolved the narrative about Sampson's extraordinary life? And how is the history of gender expression in the Revolutionary period inspiring the work of Emilio Sosa, costume designer of American Repertory Theater's upcoming production of 1776?
Explore these questions and more with A.R.T. and the Museum of the American Revolution (Philadelphia, PA) in this discussion with Emilio Sosa (1776 upcoming; The Gershwins' Porgy and Bess, Tony Award nomination); and Alex Myers, a Sampson descendant, transgender advocate, and author of Revolutionary, a fictionalized novel based on Sampson's story. Then visit the Museum's special exhibition, When Women Lost the Vote: A Revolutionary Story, 1776-1807, to see Sampson's wedding dress on loan from Historic New England and a recently discovered diary that reveals new details about her life.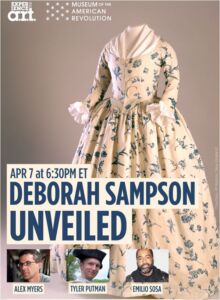 Please Support Our Website Sponsors.
Thank you!