Alden & Harlow
If your tails are wagging for tasty treats, Alden & Harlow has some egg-cellent Easter brunch specials. From a bellini-style cocktail made with France's Giffard's Peach Marmalade syrup to a soft poached egg from Feather Brook Farm, a family-owned farm in Southeastern Massachusetts, Alden & Harlow's brunch is sure to delight this Easter Sunday.
EASTER SUNDAY BRUNCH SPECIALS
Cocktails
Three Day Weekend – 16
Corn Mezcal, Reposado Tequila, Demerara, Creme de Cacao, Salt Smoked Bitters
Telling Tales – 14
Giffard Peach Marmalade, Campari Tales, Topped with Sparkling Rosé Cava
Mains
Smoked Ora King Salmon Toast – 24
Dill Pickled Rhubarb, Shaved Benton's Ham, Bernaise
Soft Poached Feather Brooks Farm Egg – 19
Asparagus & Spring Mushrooms, Sweet Pea Gravy, Anson Mills Grits
Dessert
Warm Citrus & Ricotta Pie – 11
Blood Orange & Cardamom Syrup, Pistachios
Sunday, April 17, 2022 – 10:30a to 2:30p RESERVATIONS: Alden & Harlow
Alden & Harlow, 40 Brattle Street, (617) 864-2100
Boathouse 400 at DoubleTree Suites by Hilton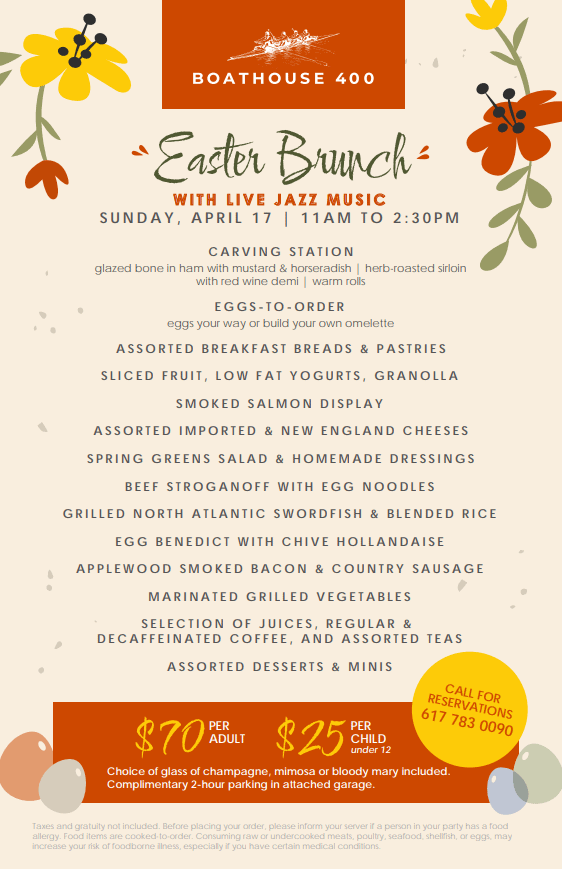 Boathouse 400 at DoubleTree Suites by Hilton, 400 Soldiers Field Road, (617) 783-0090
Flour Bakery + Cafe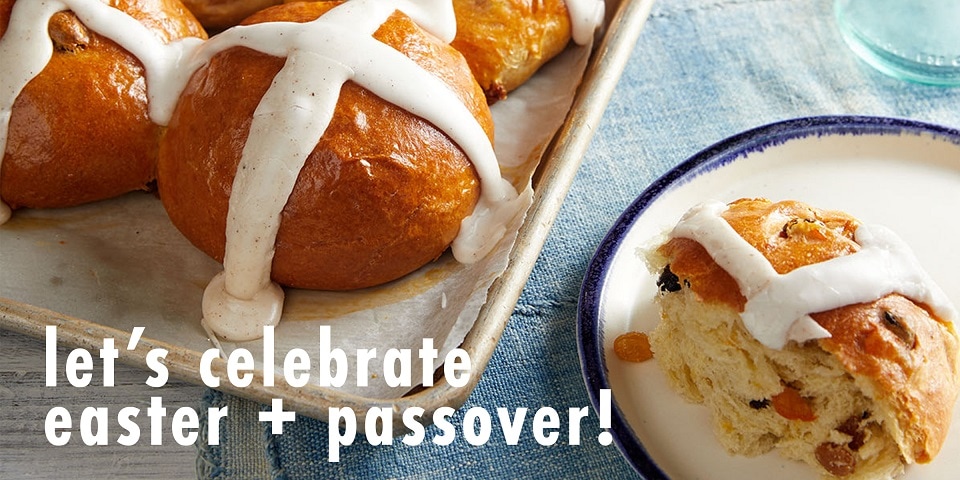 Celebrate with Easter sweets + Passover-friendly treats from Flour!
Please view all ingredients for our Easter offerings here.
Pre-Order for pick-up on Fri 4/15 – Sun 4/17. Pre-Orders close at 4pm on Weds 4/13

Flour Bakery + Cafe, 114 Mt. Auburn Street, (617) 714-3205
Harvard Museum of Natural History
"Fantastic Beasts" scavenger hunt.
Niffler
Handout: With its big eyes and long snout, the Niffler may look adorable, but watch out for your coins and jewelry! Equipped with an expandable pouch, these crafty thieves will steal anything shiny! Find a real animal that looks a lot like a Niffler.
Harvard Museum of Natural History – 3rd Floor – Great Mammal Hall
Niffler—Echidna
The echidna is an intriguing animal that is part of a very ancient group of mammals, called monotremes. Unlike other mammals, monotremes lay eggs! Just like a Niffler, echidnas have a pouch on their belly, but they use it to carry their babies, not shiny treasures. Would you want to have a pouch? Why or why not?
Harvard Museum of Natural History, 26 Oxford Street, (617) 495-3045
Nubar
Easter brunch buffet, from 11:30am – 4pm.
Carving station, eggs cooked to order, many brunch and lunch items, salads, and a dessert station. $50/adults, $30 for kids 12 and under, and free for kids 5 and under -includes coffee, tea, or soft drinks.
Nubar, 16 Garden Street, (617) 234-1365
More information coming soon!