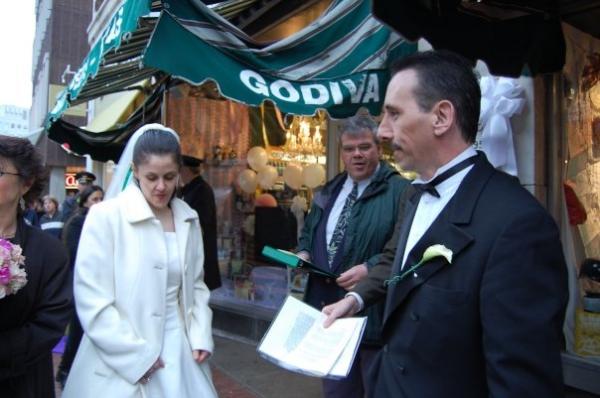 Seven years ago today, Harvard Square's "unofficial mayor" Dennis Coveney married Kelly Dugas.
Dennis and Kelly met in front of Cardullo's when he was President of the Chair Club. For those of you unfamiliar with the Chair Club, it was founded around 2002 by Dennis with full approval and support from the late Frances Cardullo. The genesis of the chair club is traced to Frances; a loyal Red Sox fan, who placed a large screen TV and outside speakers in the front window of Cardullo's Gourmet Shoppe on Brattle Street for passersby to enjoy.
Dennis showed up one night with chair in hand to watch the game on the sidewalk. Over time, he was joined by a number of fans, including Kelly. Both the chair club and the Coveney-Dugas romance blossomed. Dennis proposed to Kelly and the wedding ceremony was set to take place on opening day 2009 at 1:05 p.m. When the Harvard Square community learned that Dennis had arranged with the Vocational Deacon, Patricia Zifcak of Christ Church to perform the ceremony and that Kelly would be "given away" by Police Commissioner Robert Haas, the wheels were set in motion for a very special, one-of-a-kind, Harvard Square wedding.
Dozens of HSBA members joined together to make the day memorable. The Grafton Group supplied a three-tiered white cake with buttercream frosting; the wedding luncheon of pasta, salad and hot rolls was supplied by Bertucci's and held at Passim. Cardullo's poured complimentary champagne for the wedding guests and Petali supplied the bride's flowers and the groom's buttoner. Both The Charles Hotel and The Inn at Harvard donated a one-night stay for the honeymoon. Celebratory wedding cigars were given out by Leavitt & Peirce. Retailers and restaurants from across the Square contributed gifts and gift cards to add to a bountiful wedding basket and when the rain threated to ruin Kelly's wedding shoes, The Tannery gifted her with a pair of Hot Pink Hunter rain boots. The kind and generous outpouring of support from our HSBA members was truly lovely, and continues to be a source of pride.
Sadly, opening day was cancelled because of rain, but happily the wedding proceeded as planned. Over a hundred umbrella-toting friends from the Harvard Square community (including Tom and Ray Magliozzi and Peter Wolfe, frontman for the J. Geils Band) stood in the rain to witness the nuptials of the Chair Club CEO and his bride. During the past seven years, Dennis and Kelly have endured hardships that would test their marriage, including being homeless through two harsh cold winters. Nonetheless, their commitment to each other remains unwavering and inspirational. We send our congratulations to them and wish them many more years together in health and happiness.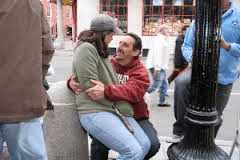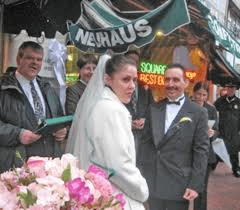 By,
Denise Jillson