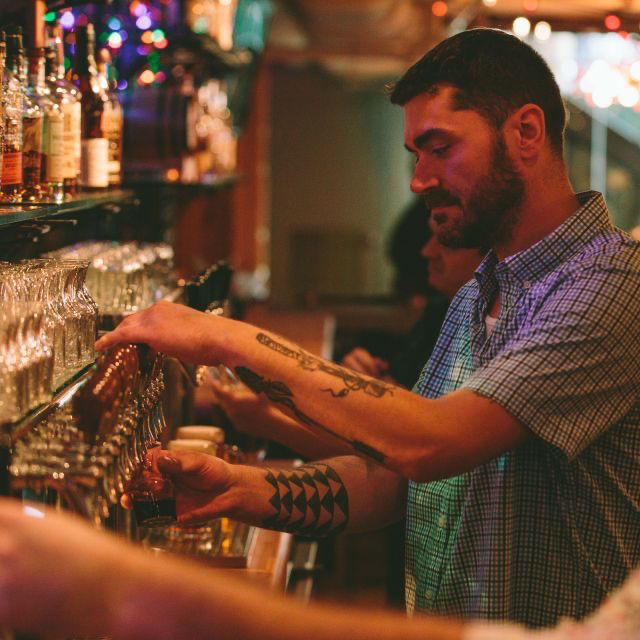 "Beat Brew Hall," which had become an institution of food, drink and entertainment in the heart of Harvard Square in Cambridge, MA has been closed for over two years due to the COVID-19 Pandemic and is now slated to re-open on Friday, May 6, 2022.

"After two years of being closed, we're truly excited to be reopening our doors, putting people back to work and adding to the excitement that is Harvard Square," said Jack Bardy, Co-Owner of Beat Brew Hall.

The restaurant will be re-opening under the watchful eye of Executive Chef Ryan Skeen, and will host an extensive beer and wine list, craft cocktails, and live entertainment on stage.

Praised by Frank Bruni for his "nimble internationalism"; and possibly drawing on a no-holds barred approach to cooking, Executive Chef and Culinary Director for the Wildlife Hospitality Group (The Beehive, Cosmica, Beat Brew Hall), Ryan Skeen, formerly of Eleven Madison Park and with a resume holding key positions with chefs and restaurateurs like Daniel Boulud, Jean George Vongerichten, Daniel Patterson, Rocco DiSpirito, and Andrew Carmellini, will head up the kitchen at the newly opened Beat Brew Hall.

"I might be the only one, but I'm calling it New Cambridge Cuisine for now simply because I don't know where it fits in. We're not drawing on one region, one style of cooking, or one category, we're just going to make fun, delicious food in a scratch kitchen. We'll also have some exciting surprises this summer drawing on some past experiences I've had like at The Cannibal Beer & Butcher in New York where we did some very creative things with our butchery program," said Chef Skeen.

Carnivores can look forward to House-Smoked Beef Brisket, Coriander Chicken and Shrimp Grits, while vegetarians will applaud an entire vegetable section with items such as Grilled Beets with Grapefruit, Goat Cheese, Green Goddess and Pumpkin Seeds and Smoked Sweet Potato with Avocado Cream, Puffed Rice and a Salsa Verde all served in small plate format.

While regional craft beers and a small batch wine list will still be a focus, guests can also look forward to numerous craft cocktails and an extensive list of fine bourbons and tequilas. Cocktails such as the Bacon Jalapeño Smash with smoked bacon, Washed Bourbon, Lime and Mint ($15) and the Frozen Verde Margarita with Elderflower, Orange Liquor and Sherry ($13) and among a few of the new additions.

Live music will once again grace the stage at the restaurant with everything from country to classic rock, Jazz as well as DJs; with Beat's upcoming calendar of performers soon to be released.

Located at 13 Brattle Street in the heart of Harvard Square in Cambridge, Massachusetts, Beat Brew Hall will be open Tuesday – Sunday from 5:00PM – Close and is the perfect place for dinner, cocktails with friends or for special and private events. For reservations, or for more information please visit: beatbrewhall.com

BAR FOOD
DEVILED EGGS, PICKLED RADISH, CRUNCHY CHILI, CHIVES 9
SESAME & WHITE BEAN DIP, PIQUILLO PEPPER, CHARRED FLATBREAD 14
WHIPPED RICOTTA, RAW PEAS, BLISTERED TOMATOES 15
PIGS IN THE BLANKET 12
SHRIMP & GRITS 18
CHICKEN WINGS SMOKED PEPPER OR BUFFALO 16
CAULIFLOWER WINGS SMOKED PEPPER OR BUFFALO 14
ROASTED CHICKEN THIGHS, CORIANDER ROASTED BABY CARROTS, MOLE, YOGURT 18
GRILLED SALMON, CHARRED BEANS, SMOKED EGGPLANT, SHITAKES, SHALLOTS 22
BRISKET, SMOKED SWEET POTATO, AVOCADO CREAM, PUFFED RICE, SALSA VERDE 19
BBQ ST. LOUIS PORK RIB HALF OR WHOLE RACK 18/32

BURGERS
BURGERS DRY AGED BEEF
HOUSE BURGER
VERMONT CHEDDAR, RED ONION, LETTUCE, PICKLE, SPECIAL SAUCE 18
THE BEAT BURGER
MALTED BACON JAM, SMOKED TOMATOES, BLUE CHEESE, FRISÉE, TRUFFLE AIOLI 20
VEGGIE MAC
DOUBLE PATTY IMPOSSIBLE BURGER, LETTUCE, ONION, AMERICAN CHEESE, SPECIAL SAUCE 17

VEGETABLES
FRENCH FRIES WITH TRUFFLE AIOLI 8
CORIANDER ROASTED BABY CARROTS, MOLE, YOGURT 12
GRILLED BEETS, GRAPEFRUIT, GOAT CHEESE, GREEN GODDESS & PUMPKIN SEEDS 15
CHARRED LONG BEANS, SMOKED EGGPLANT, SHITAKES CRISPY, SHALLOTS 14
SMOKED SWEET POTATO, AVOCADO CREAM, SPICY PUFFED RICE, SALSA VERDE 13
CHOPPED SALAD, GREEN GODDESS OR BLUE CHEESE VINAIGRETTE 13 CHICKEN OR SALMON +10

MIXED DRINKS
DURANGO NEGRONI, MEZCAL, CAMPARI, SWEET VERMOUTH, ORANGE BITTERS 13
BACON JALAPENO SMASH, BACON WASHED BOURBON, MINT, LIME 15
MARGARITA ESPECIAL, TEQUILA, RASPBERRY SHRUB, LIME, AGAVE 13
SPRING FLING, GIN, PAMPLEMOUSSE LIQUEUR, FRESH STRAWBERRY, SODA 13
ST. JOHN, RUM, FRESH LIME, COCO WATER, DEMERARA SYRUP 13
CARPETBAGGER, RYE, AMARO D'ELL ETNA, VERMOUTH, ANGO 14

DRAFT BEER
JACK'S ABBY POST SHIFT Pilsner 8 FIDDLEHEAD ATHERIUM Belgian White 9
SIERRA NEVADA Pale Ale 8 ZOMBIE DUST IPA 9
HARPOON IPA IPA 8 TRUE NORTH NORTHERN HAZE NEIPA 10
JACK'S ABBY BLOOD ORANGE Wheat 9 NIGHTSHIFT BERLINER WEISSSE Rotating Sour 10
FOUNDERS KBS (2019) 15 MODELO 8
MILLER HIGH LIFE 7

BEER PITCHERS
JACK'S ABBY POST SHIFT 24 SIERRA NEVADA 24 HARPOON IPA 24 MODELO 24

CANS
LAWSON'S SIP OF SUNSHINE IPA 12 SPRINGDALE BRIG Mocha Stout 11
BROOKLYN BEL AIR Sour 8 BURLINGTON BEER CO CREATURES OF MAGIC NEIPA 11
INDUSTRIAL ARTS WRENCH NEIPA 13 JACK'S ABBY HOUSE LAGER 8
BELL'S HOPSLAM DOUBLE IPA 13 NIGHT SHIFT NITE LITE 8
JACK'S ABBY SHIPPING OUT OF BOSTON Amber 8 NARRAGANSETT 16oz can 7
ATHLETIC BREWING RUN WILD N/A IPA 7
TOPO CHICO STRAWBERRY GUAVA Hard Seltzer 24oz can 12
SOL Mexican Lager 7 CORONA 7 TECATE 12oz Can 6

SANGRIA
GLASS 11 PITCHER 38