(November 16th – The Daily Free Press) Harvard Square restaurants seek solutions to revenue losses from delivery apps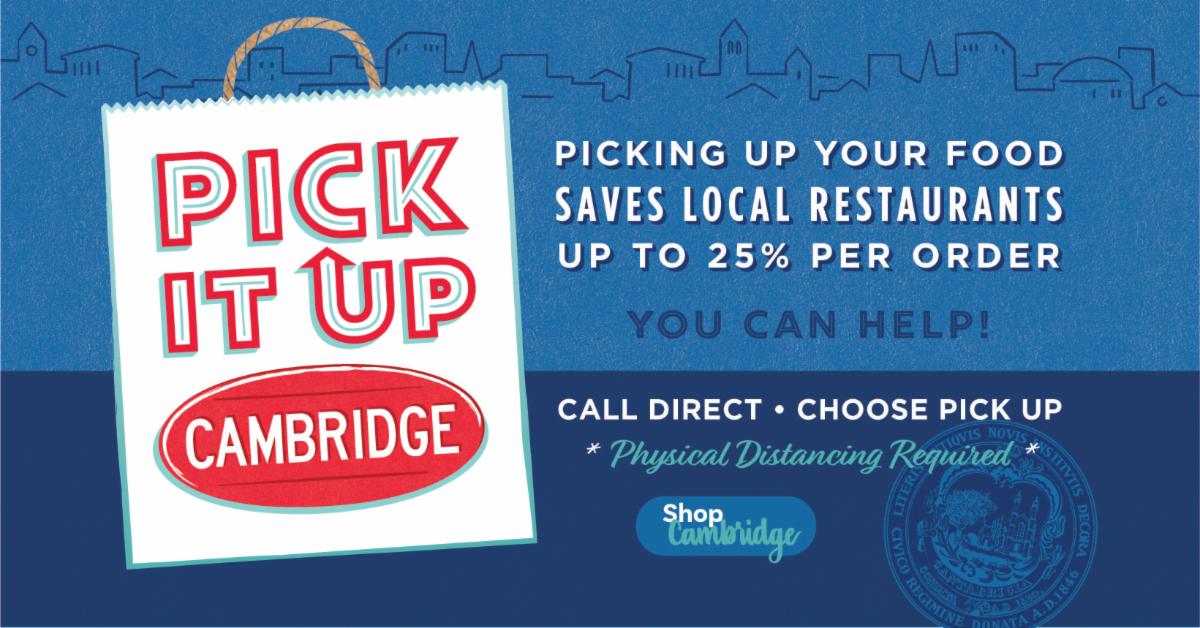 The City of Cambridge, in partnership with the local business community, are launching "Pick It Up Cambridge," a social media and print campaign to encourage patrons to call direct and pick up their orders to help business owners retain the full value of their product and support local eateries.
Calling directly and picking up orders saves restaurants as much as 25% per order and ensures that restaurants receive the entirety of the transaction. Selecting pick-up via delivery apps can still cost restaurants a significant portion of the order.
"COVID-19 has had a devastating impact on our local businesses," said Jason Alves, Executive Director of the East Cambridge Business Association and member of the City Manager's Small Business Advisory Committee. "We hear from residents all the time that they want to help, and it's important for us to let them know that one of the easiest, most impactful things they can do is call a business directly and pick up their order themselves to ensure 100% of their money goes to that small business."

The Cambridge business associations and organizations actively involved in this campaign include the Cambridge Office for Tourism, Cambridge Local First, Central Square Business Improvement District, East Cambridge Business Association, Harvard Square Business Association, and Kendall Square Association. These groups are helping spread the word to local businesses in Cambridge as well as providing materials to place in their stores, on their websites, and on social media.

"Cambridge's small business community has been severely hurt by the economic shutdown. In addition to the city providing direct financial support through various initiatives, our Small Business Advisory Committee has been identifying strategies to support this vital segment of our community," said City Manager Louis A. DePasquale. "Our residents generously supported our local food establishments while the Governor's Stay at Home Advisory was in effect, and now they can further support their favorite Cambridge restaurant by calling directly and choosing to pick up their order."

The City of Cambridge is supporting this campaign by providing educational materials for businesses and for the public, as well as by placing traffic signage in requested locations to allow for more short-term parking for pick-ups from businesses.

For more information and to sign up to receive information on COVID-19 and updates related to reopening, please visit the city's dedicated information page: https://www.cambridgema.gov/covid19