Clover Food Lab

The Clover Thanksgiving Box is here!
Lock down your Thanksgiving plans early (and skip the grocery store)!
It's already smelling like Thanksgiving here in the Clover kitchen! Chris and Jason are busy finalizing recipes, calling farms, and building the best Thanksgiving spread in all the land. Last year this box sold out overnight, so this year we've purchased a new refrigerated van to keep up. Click here to get your meal planning done.
Whether you're going over the river or through the woods, our box will keep you full, happy and connected to your MA farmers. From a family-sized version of our Brussels sprout sandwich to classic mashed potatoes to cranberry sauce from our local bogs, we've got you covered no matter how you're celebrating this year.
Ordering is easy. Start with a Thanksgiving box, then add extras you can't find in grocery stores (apples from Autumn Hills Orchard, wine paired with the meal, and pies from Petsi Pies and Forge!) Choose your box size, from a small box that feeds 2, to a feast box that feeds 10 (the price goes down as you add more people) whether you'd like to get your box on Tuesday Nov 23 or Wednesday Nov 24.
We're offering free delivery to all doorsteps within 30 miles of Cambridge (on all orders above $60) and we'll also be hosting pickups at CloverHUB (1075 Cambridge St) where we're making the food! The deadline to order is 5pm on Sunday, Nov 21, but judging by what happened last year, the boxes may sell out sooner. Click here to order your box!
COCKTAIL HOUR:
Spiced mixed nuts
Olives with citrus and. herbs
Turmeric-pickled dipping vegetables

MAIN COURSE:
1. Mushroom & Walnut Pâté – Ayr's dad's recipe is a vegetarian showpiece that carnivores love, made with Rhode Island Mushroom Co mushrooms and Grafton Cheddar. Place tray in the oven, heat, and serve.
2. Gravy – Chris makes magic happen with butter, thyme, ginger, soy, white wine vinegar, black pepper and porcini mushrooms. Warm up, pour into your gravy boat and serve over everything.
3. Mashed Mid Isle Farm Russet Potatoes – simple and delicious mashed potatoes, sourced from the best potato farms in Prince Edward Island. Place tray in oven, heat, and serve.
4. Roasted Czajkowski Farm Brussels Sprouts – think of this as a family-sized version of our Brussels Sprout Sandwich! Just-harvested brussels, za'atar, pickled cabbage, toasted hazelnuts, and smoked Grafton cheddar. Place tray in oven, heat, then drizzle with Sour Cream Dijon sauce at the table.
5. Scratch-made MA cranberry sauce – we make ours simply. Just sugar, water, and cranberries from one of our nearby bogs (e.g. Decas Farm). A little tart, a little sweet.
6. Creamy Butternut Squash Soup – local butternut squash and Michael Docter's first harvest of carrots from Winter Moon Roots Farm. A Clover favorite.
7. Stuffing made with Berkshire Mountain Bakery Ciabatta!
DON'T FORGET LEFTOVER SANDWICHES! Freshly baked dinner rolls from Central Bakery.
Clover Food Lab, Massachusetts Avenue, 617-640-1884
Flour Bakery & Cafe
Order for Thanksgiving Today
Flour has everything but the turkey covered for your Thanksgiving feast!
Pre-order today for pick-up from any Flour location on Tuesday 11/23 or Wednesday 11/24.
Please note that orders will close at 4pm EST on Sunday 11/21.
Click here to view all ingredients for each dish.
Flour Bakery & Cafe, 114 Mt. Auburn Street, 617-714-3205
Grafton Street
Appetizers
Butternut Squash Bisque
lemongrass, pepitas
Spinach Salad
pears, candied pecans, shaved parmesan, pomegranate vinaigrette
Entrees
Turkey Dinner
chive mashed potatoes, brussels sprouts, herbed bread stuffing, gravy
Apple Cider Short Ribs
cream cheese polenta, garlic-oil haricot vert, red wine jus
Desserts
Pumpkin Cheese Cake
caramel sauce
FAMILY-STYLE TAKEOUT
For takeout, we will offer family-style Thanksgiving packages, available for pre-order. Dinner for two is $100 and dinner for four is $200. The package includes:
-Squash Bisque
-Spinach Salad
-Turkey Dinner
-Pumpkin Cheese Cake
Grafton Street Pub & Grill, 1230 Massachusetts Avenue, 617-714-5954
Harvest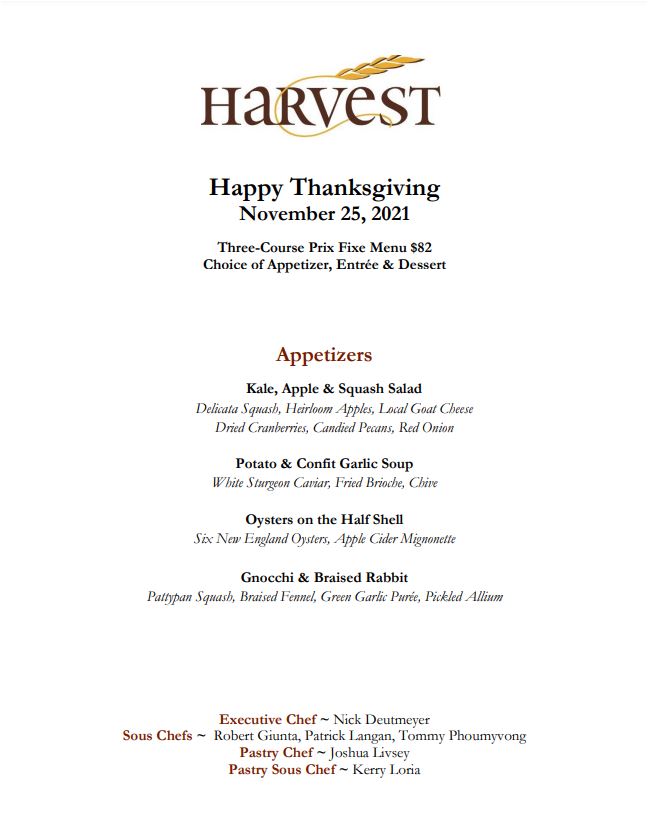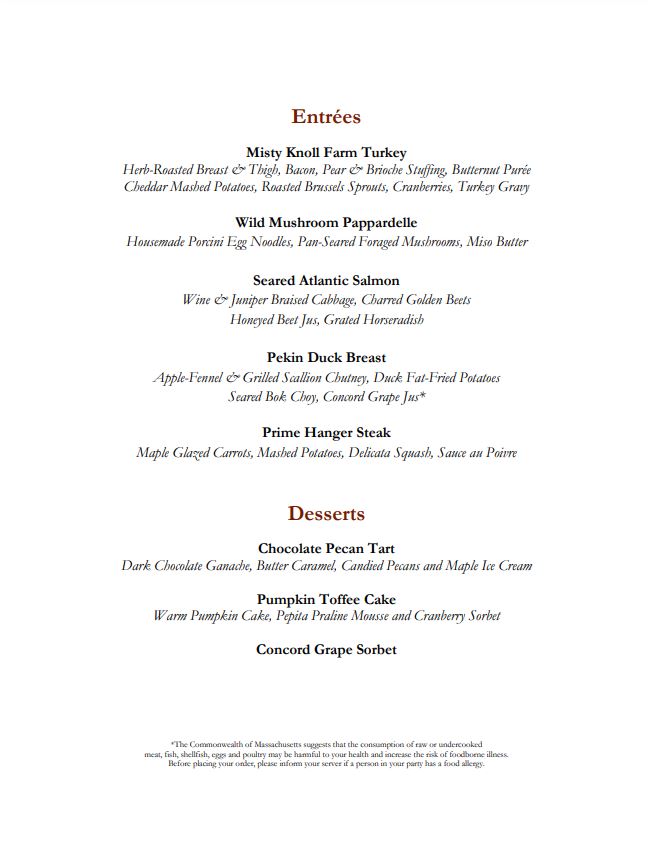 Harvest, 44 Brattle Street, 617-868-2255
Henrietta's Table
Thanksgiving 2021
$110.00 per person
Four Course pre-fixed, plated meal
*Vegetarian option available
Open 12pm -6pm
First Course
Roasted Heirloom Pumpkin Bisque
Second Course
Fall Greens, Narragansett Feta, Toasted Pumpkin Seeds,
Pomegranate and Cranberry Port Vinaigrette
Entree
Roasted Cage Free Turkey, Traditional Gravy,
House-Made Cranberry Sauce
Served with Mashed Potatoes
Roasted Root Vegetables, Butternut Squash and Beets
~or~
*Grain Bowl with Fall Vegetables, Squashes and Maple Vinaigrette
Dessert
Trio-Sampler Plate:
Warm Apple Crisp with Vanilla Bean Ice Cream
Pumpkin Pie, Fresh Whipped Cream and Candied Pumpkin Seed
Flourless Chocolate Cake, Ganache Glaze
Please send requests for reservations to virginiabaggan@charleshotel.com
Henrietta's Table, 1 Bennett Street, 617-661-5005
Nubar
THANKSGIVING BUFFET 2021
-Soup-
Pumpkin Bisque
-Carving-
Roast Turkey
Pan Gravy
Cranberry sauce
Honey Glazed Ham
Stone Ground Mustard
Dinner Rolls
-Fish-
Grilled Salmon, Melted Leeks, Roasted Corn
-Sides-
Traditional Bread Stuffing
Roasted Brussels Sprouts with Crisp Bacon
Whipped Potatoes
Roasted Winter Squashes
Candied Yams
Glazed Root Vegetables
French Green Beans with Slivered Almonds

-Salads–
Caesar Salad
Baby Spinach, Shaved Apples, Celery, Radish, Blue Cheese, Cider Vinaigrette
-Desserts-
Pies- Apple, Pumpkin, Pecan
Mini Pastries, Cakes and Cupcakes
$50 FOR ADULTS, $30 FOR KIDS, KIDS UNDER 5 FREE – INCLUDES SODA, JUICE, COFFEE, TEA
12:00PM – 6:00PM
Thanksgiving Dinner To Go
Here's The Deal
$50/pp – Minimum Order Is For 2 People
Soup For Each Guest
Salad For Each Guest
10 0z. Of Either Carved Turkey, Carved Ham, Or a Combination Of Both Per Person
1 Pint Of Traditional Stuffing
1 Pint Of Whipped Potatoes
1 Pint Of Candied Yams
1 Pint Of Fall Vegetable Medley
Pan Gravy, Stoneground Mustard, Cranberry Sauce
1 Slice Of Pie Or Cake For Each Guest
Call (617)234-1365 To Order – No Later Than Friday November 19th, For Pickup On Thanksgiving Day Between 10am – and Noon.
After the buffet is over, we will offer our regular menu/regular hours, with the addition of a turkey plate special for $28.
Nubar, 16 Garden Street, 617-234-1365
The Red House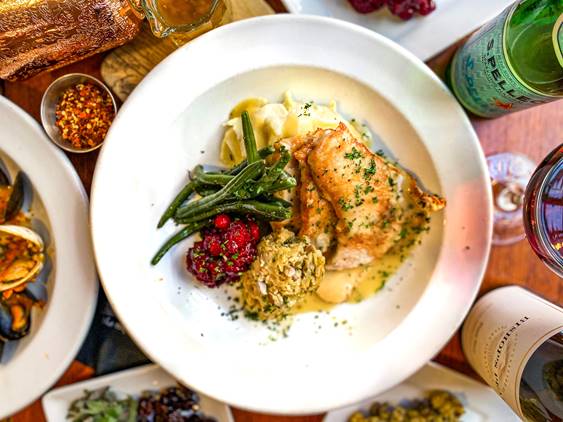 The Red House Restaurant is offering both in-house and take-away options for Thanksgiving. Pre Orders for Thanksgiving are live now. You can order via our website for pick-up on either Wednesday, November 24th, or Thursday, November 25th. The Red House loves traditions this time of the year, which is why we keep it wholesome, classic, and delicious on the holidays.
The Red House, 98 Winthrop Street, 617-576-0605
Russell House Tavern
THANKSGIVING
Thursday, Nov 25, 2021
Join Russell House Tavern this Thanksgiving to celebrate with friends and family, but let us do the cooking. In addition to the Dinner Menu, we will also be offering our Thanksgiving Specials (Thanksgiving 2021) We are accepting reservations from 11AM to 9PM. Although reservations are strongly suggested, they are not required. To make a reservation, please follow the link or call us at 617-500-3055.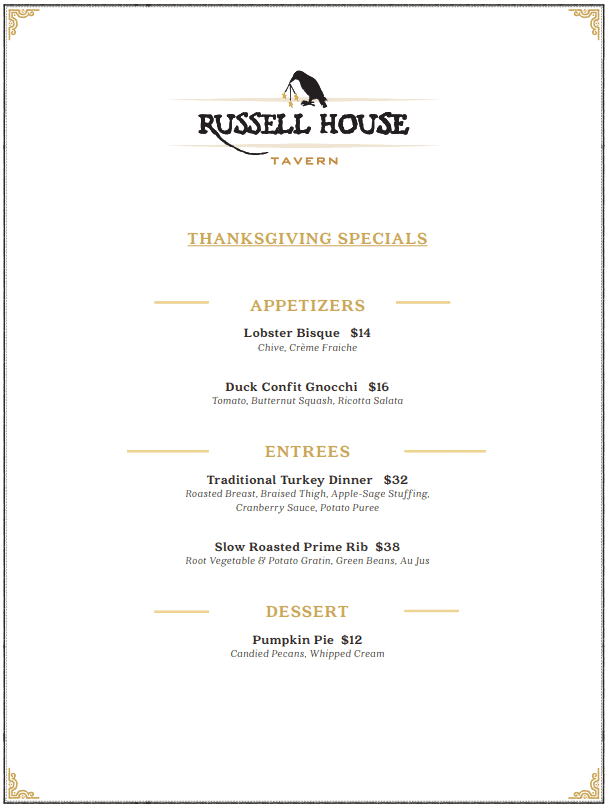 Russell House Tavern, 14 JFK Street, 617-500-3055
Smoke Shop BBQ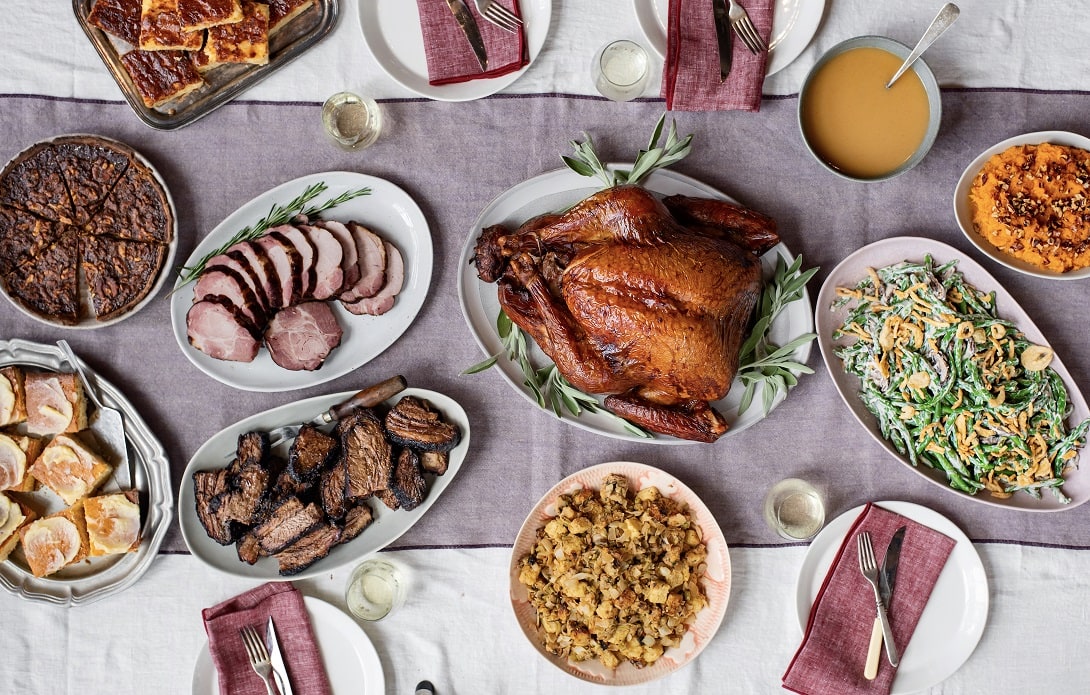 The Smoke Shop BBQ is offering two main options for Thanksgiving catering this year: All Boxed Up dinners for multiples of 2 and our à la carte Thanksgiving menu. Ordering is open from now until 11/18 for boxes and 11/19 for whole turkeys and other à la carte items. View our full Thanksgiving menu and details on how to place your order at the link below.
Thanksgiving Catering Menu
Smoke Shop BBQ, 8 Holyoke Street, 617-547-7427