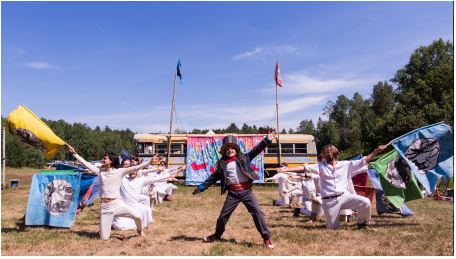 Bread & Puppet Theater comes to The Cambridge Common in Cambridge, Massachusetts on Saturday,
September 4, 2021 at 4pm. The iconic theater troupe will partner with the Cambridge Arts Council to bring
a brand new performance in the tradition of the Circuses that began at Goddard College in Plainfield,
Vermont in 1970. Traditional circus tropes are reinterpreted with the help of Bread and Puppet's distinctive
folk iconography to draw attention to the urgent issues of the day. Stilt dancers, paper maché beasts of all
sizes and a Bread & Puppet's Fight-Against-The-End-Of-The-World Brass Band contribute their riotous
inspiration to this colorful spectacle of protest and celebration.

"For a second year in a row, we celebrate the 50th anniversary of Our Domestic Resurrection Circus",
says director Peter Schumann. The show, says Schumann, is "in response to our totally unresurrected
capitalist situation, not only the hundreds of thousands of unnecessarily sacrificed pandemic victims but
our culture's unwillingness to recognize Mother Earth's revolt against our civilization. Since we earthlings
do not live up to our earthling obligations, we need resurrection circuses to yell against our own stupidity."

After the show Bread & Puppet will serve its famous sourdough rye bread with aioli, and Bread & Puppet's "Cheap Art" – books, posters, postcards, pamphlets and banners from the Bread & Puppet Press – will be for sale.
Show Length: Approximately 1 hour.

Tickets on sale at BreadandPuppet.org.
No-one turned away for lack of funds.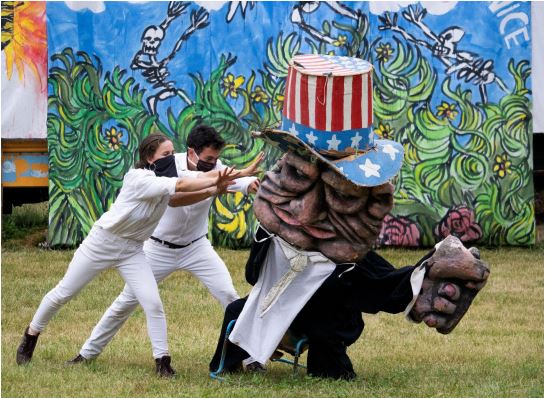 BREAD AND PUPPET THEATER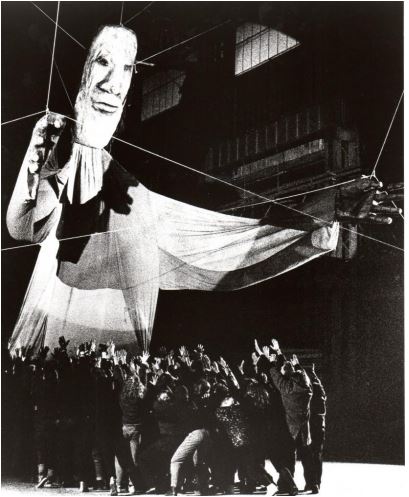 The Bread and Puppet Theater is an internationally celebrated company that champions a visually rich, street-theater brand of performance art filled with music, dance and slapstick. Believing that theater is a basic necessity like bread, the company frequently brings its work to the streets for those who may not otherwise go to the theater. Its shows are political and spectacular, with puppets often on stilts, wearing huge masks with expressive faces, singing, dancing and playing music.

Bread and Puppet is recognized throughout the world and has won distinction at international theater festivals in Italy, Poland, Colombia, and Yugoslavia, beginning with their break-out performances at the 1968 Nancy Festival in France. Notable awards include the Erasmus Prize of Amsterdam, 4 Obies, the Puppeteers of America's President Award, and the Vermont Governor's Award. Bread and Puppet is constantly active, performing at its farm in Glover, VT, and in local churches, schools and parades. It regularly tours Europe, Canada, and the United States and has recently visited El Salvador, Haiti, Russia, and Korea.

Founded in 1963 by Peter Schumann on New York City's Lower East Side, the theater has been based in the North East Kingdom of Vermont since the early 1970s and is one of the oldest, nonprofit, self-supporting theatrical companies in the country.

Based on the Biography of Bread and Puppet that accompanies the Bread and Puppet Archives at the
University of Vermont, Burlington. Full text here: http://cdi.uvm.edu/findingaids/collection/bredpupt.ead.xml

CAMBRIDGE ARTS COUNCIL
The Cambridge Arts Council is a city agency that funds, promotes, and presents high-quality,
community-based arts programming for the benefit of artists, residents, and visitors to Cambridge, MA.
Established in 1974, Cambridge Arts is one of the oldest and most dynamic arts agencies in the country.
As a public nonprofit, Cambridge Arts operates with funding from local government, private foundations,
corporate sponsors, and individual donors and delivers on its mission by fulfilling three primary roles:
Connector: Through partnerships with artists, presenters, donors, and audiences, the agency operates as
a vital cultural presence in the region. From connecting local youth with professional teaching artists to
securing performance space for both emerging and established ensembles and introducing residents to
local artists through Cambridge Open Studios, Cambridge Arts links people and resources from across
the artistic spectrum to spark innovative collaboration.
Presenter: In addition to exhibitions and educational programming presented in Gallery 344, Cambridge Arts stages high-profile events such as the Cambridge River Festival, a signature city celebration and regional event. The festival features a wide array of music, dance, theater and visual art and attracts a robust audience of close to 200,000 visitors annually.

Funder: Through the Cambridge Arts Grant Program, Cambridge Arts awards dozens of financial grants each year in support of high-quality, community-based art projects representing all artistic disciplines.
Cambridge Arts embraces a vision that welcomes and supports everyone. Believing that a multiplicity of
perspectives is essential to a strong society, we are committed, both in our policies and practices, to
building participation in and awareness, understanding, and appreciation of the arts and all cultures. In
our ongoing work to address cultural and historical inequities, we strive to be a community anchor that
reflects the entire Cambridge community and expands access, opportunities, and inclusion in every form
of creative expression. We value diverse voices and people of all ages, backgrounds, ethnicities, abilities,
gender identities, sexual orientations, socioeconomic situations, religions, citizenship statuses, and family
configurations.

The Cambridge Arts Council is supported in part by the City of Cambridge, the National Endowment for
the Arts, and the Mass Cultural Council, a state agency.

LISTING SUMMARY
What: Bread and Puppet's Our Domestic Resurrection Circus
When: Saturday, September 4, 2021 at 4pm
Where: Cambridge Common, Cambridge, MA
Admission: No advanced tickets necessary. Donations accepted at the performance.

PHOTO CREDITS
Insurrection Resurrection Service Circus, opening flags, 2020. Photo by Gary Patrick
Harvey.
Insurrection Resurrection Service Circus, Uncle F, 2020. Photo by Gary Patrick Harvey.
Archival photo by Ron Simon.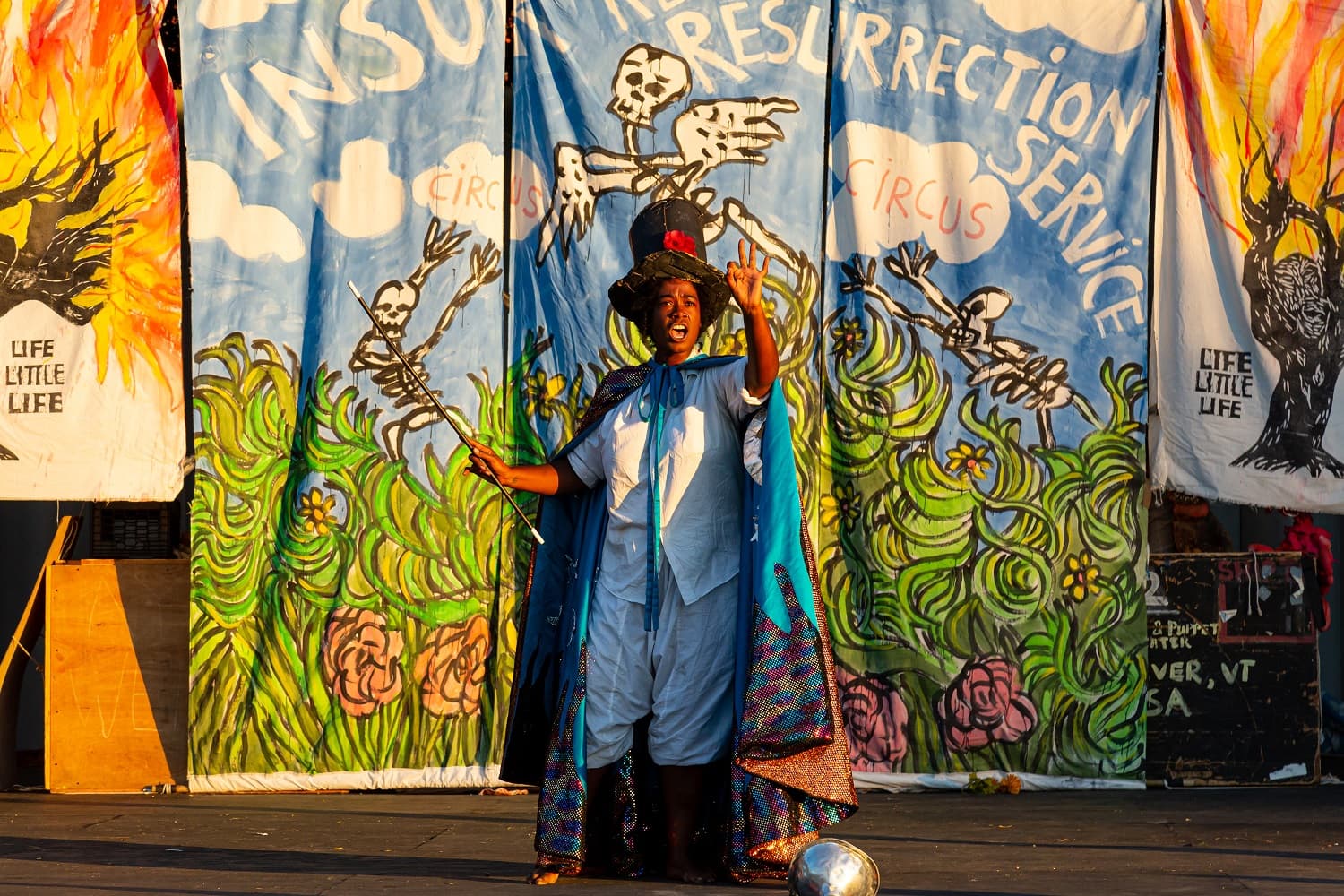 Press Release Bread and Puppet brings Circus to Cambridge.pdf