A Special Cambridge Forum in Collaboration with Lincoln Institute of Land Policy and the Harvard Square Business Association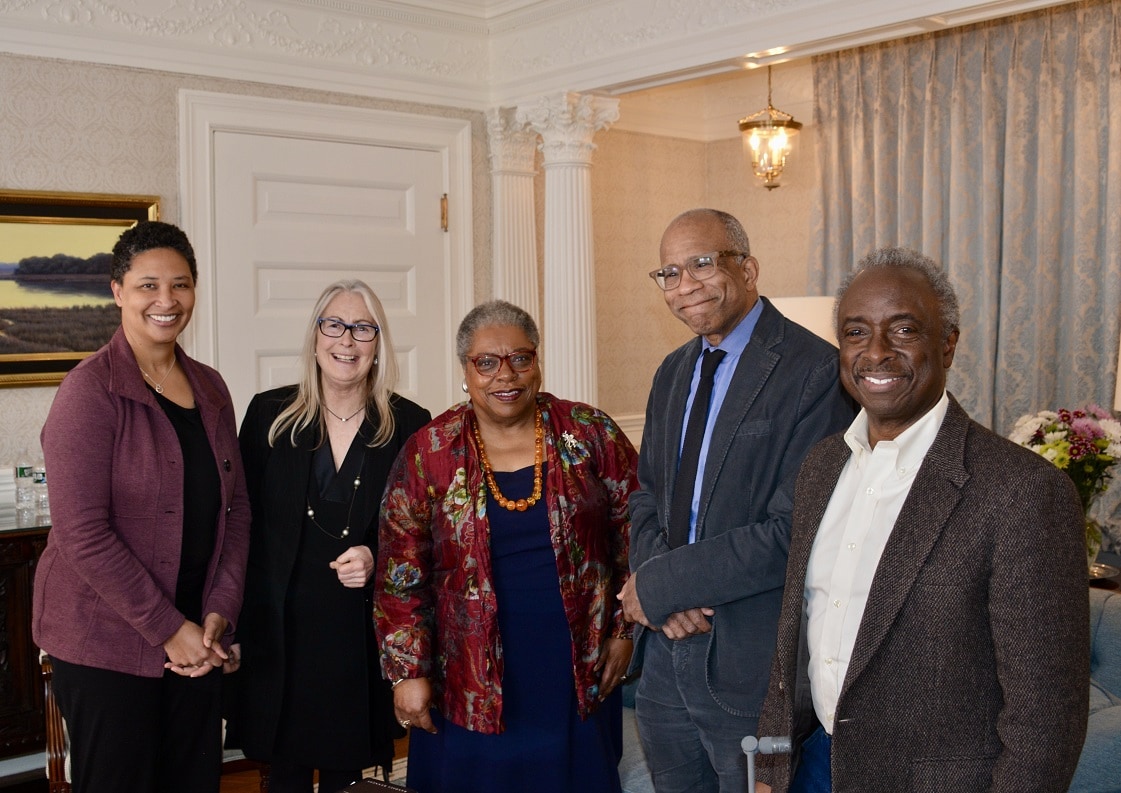 On Monday, March 21st, Lincoln Institute of Land Policy hosted an intimate recording of Cambridge Forum's Black History: On Rewind.  This forum offers a timely opportunity for past speakers of the Forum, Harvard Law Professor and author Randall Kennedy, Harvard professor and political theorist Danielle Allen and sociologist and Baptist minister Cheryl Townsend Gilkes, to evaluate what progress they believe has been made in social justice and equality, to consider the importance of "who" writes the history and to highlight what outstanding issues remain to be addressed by Americans, as a democratic nation. 
Cambridge City Councillor Denise Simmons provided the welcoming address.   PBS producer and filmmaker, Roberto Mighty, acted as the moderator.  Black History: On Rewind will be broadcast on Cambridge Forum's weekly show on NPR, a podcast will be posted to the CF website, and WGBH Forum Network will upload the video to YouTube in the near future.
Starting in 1967, at the height of the Vietnam War and Civil Rights Movement, Cambridge Forum has been producing live events from First Parish Church in Harvard Square, with the aim of providing a safe platform from which to examine salient, social issues. This nonprofit has dedicated itself to free public discussion.
A retrospective of prominent black leaders and activists who have appeared at the Forum over the past several decades was recently created by the Harvard Square Business Association and released as a precursor to this event.  The newly digitized, historical collection of eminent black orators, including Nelson Mandela, Desmond Tutu, Cornel West, Anita Hill and others has come to fruition thanks to a generous grant from the Cambridge Community Foundation.
According to CF Director Mary Stack, "In light of the disturbing events in Ukraine, it is more important than ever that Americans safeguard their democracy by protecting their freedom of speech, and by allowing respectful, meaningful discussion of potentially divisive issues.  As Edmund Burke said, 'Those who do not know history are doomed to repeat it.'"
About the Harvard Square Business Association:
The Harvard Square Business Association was founded in 1910 and was incorporated May 20, 1936, with an established purpose to advance the commercial, industrial and public interests of Harvard Square, to promote a commercial exchange, to accumulate and give to its members business information, to adjust controversies and misunderstandings, to establish and maintain uniformity in commercial transactions, and to promote just and equitable principles of trade.  Its mission is to promote commerce in Harvard Square while being good stewards of the public space.  Denise Jillson, executive director of the HSBA, puts it this way, "It is our duty, our responsibility and our pleasure to take care of the Square and the people in it." 
About the Lincoln Institute of Land Policy:
The Lincoln Institute of Land Policy seeks to improve quality of life through the effective use, taxation, and stewardship of land. A nonprofit private operating foundation whose origins date to 1946, the Lincoln Institute researches and recommends creative approaches to land as a solution to economic, social, and environmental challenges. Through education, training, publications, and events, we integrate theory and practice to inform public policy decisions worldwide.