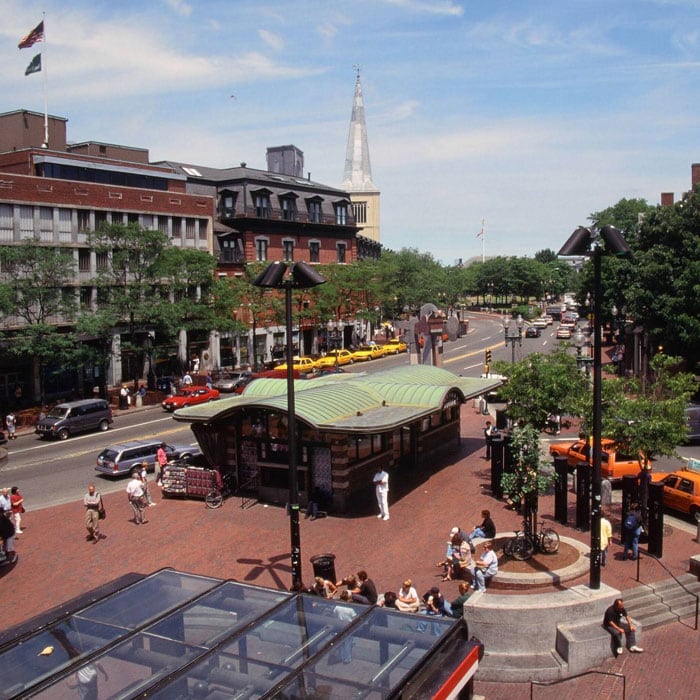 A monumental (printed) mural will debut in Cambridge's Harvard Square this fall. Patricia Thaxton has been selected by the City of Cambridge to design 700 hundred feet of vinyl construction scrim that will surround Harvard Square's Out of Town News Plaza as it is reconstructed over the next couple of years.
"Patricia Thaxton's work stood out for the group. Her work was welcoming, and represented community, diversity and exuded a calming energy that we felt is needed at this time," says artist selection committee member Nicola Williams of the Harvard Square Neighborhood Association, founder of The Williams Agency, and president of Cambridge Carnival International.
"Patricia Thaxton's body of artwork is a combination of geometrics and humanity. Her creations are charming … yet intellectual, gentle … yet powerful," says Denise Jillson, Executive Director of the Harvard Square Business Association, who also served on the committee that selected the artist. "Her pieces are imbued with themes of commerce and family, social justice and the power of women. She honors children and the beauty imbedded in daily life. She celebrates her people and patterns in a breadth of color using a variety of materials. I look forward to her finished design being acclaimed and applauded in Harvard Square's most historic and iconic setting."
The project is a collaboration between three City of Cambridge departments: Public Works, Community Development, and Cambridge Arts.
 
This is the first public art project by Thaxton, a mixed media collage artist, fashion designer, and educator based in Stoughton. It represents a new milestone in her career, following her retirement in 2009 after teaching for 35 years in the Boston Public Schools.
 
"It was time to do something for myself," Thaxton says of retiring. She dreamed of appearing on a cooking show, of having her art appear in "General Hospital" or a Tyler Perry movie, to learn to drum, to appear in Hollywood movies, and to make art.
 
So far, Thaxton has appeared as an extra in the Hollywood films "Ted," "Here Comes the Boom," and "American Hustle." The fall after she retired from teaching, she cleaned out a room in her house to be an art studio, threw herself into creating, and began having exhibitions—including at the Mayor's Gallery at Boston City Hall and most recently at Town Common Gallery at Cambridge College in Boston.
 
Thaxton's vibrant collages of cut paper and fabrics accented by pastels, pencil, watercolor, and acrylic paint evoke everyday life—children at daycare, picking up her daughter at the T, flowers, a hairstylist, prayer, finding a quiet moment to think. Her abstract pattern designs might bring to mind batik fabric dying. She intended her logo "Black & White Design" to evoke an "African shield with a carving of a strong woman carrying her produce from market."
It's all inspired by her life, Thaxton says. "Creating art, I need to see people like me doing everyday things."
Thaxton grew up in Dorchester and studied education and home economics at the University of Massachusetts at Amherst. "I did some fashion design and modeling when I was in college, and actually made the cover of a photographers magazine," she recalls. Her passion for education led her to pursue teaching. "I ended up being the last home economics teacher in the entire Boston Public Schools."
At Curley Middle School for a decade, West Roxbury High School for a few years, and at English High School for more than two decades, Thaxton taught students culinary arts, clothing and textiles, consumer education, home management, family living, and child development.
She wrote grants to get industrial sewing machines for her students. Each year, she and her students cooked up a Thanksgiving dinner. "For a few that was the only Thanksgiving they had," she says. "We baked things from scratch. I wanted them to know where food came from and how to eat well." She's the kind of teacher who gets hugs from the wives of former students thanking her for teaching their husbands to cook.
And Thaxton organized a popular annual talent and fashion show to showcase students' performances and fashion designs. Tickets often sold out, she says. "They had to have security to turn people away."
Her experiences have become subjects for her art. "Landscapes, people, flowers, design—when you think about home economics that's all me. It's just my everyday life. I'm an old lady, I like flowers and I love texture and design. When I think of home decorating, I think of that one piece of art that lights up a room with energy, inspiration, or fond memories."
Thaxton is a member of Roxbury Open Studios Collaborative and also participates in Jamaica Plain Open Studios. Her art has been featured at the Rogerson Communities development at 9 Williams St. and in the permanent collection at Dewitt Center at Madison Park Village, in Boston. Her two children help with her appearances and exhibitions: "With my son's degree in communications and my daughter's in arts and entertainment management, it becomes a family affair—all bases are covered."
Thaxton was awarded a Creative Entrepreneur Fellowship with the Boston Arts & Business Council in 2019. Before receiving the fellowship, she says, "I never thought of myself doing public art." Because she thought of it as primarily sculpture. The program opened her eyes to the possibilities that public art could include collage as well, that public art could be something she could do.
Thaxton is still making plans for her Harvard Square project, but she expects it will highlight her signature mixed media collage style and themes of family and community, fashion and graphic design. "I am driven to get the word out through my art," she says, "to do good and live life fully."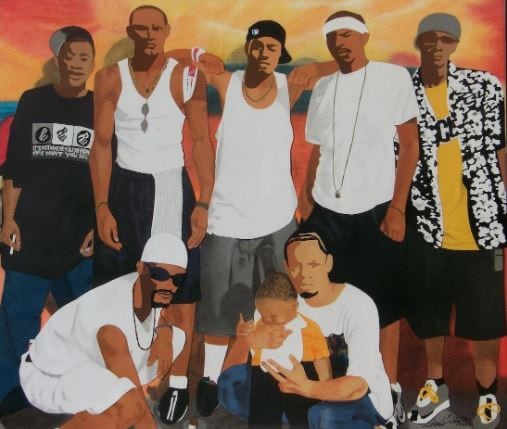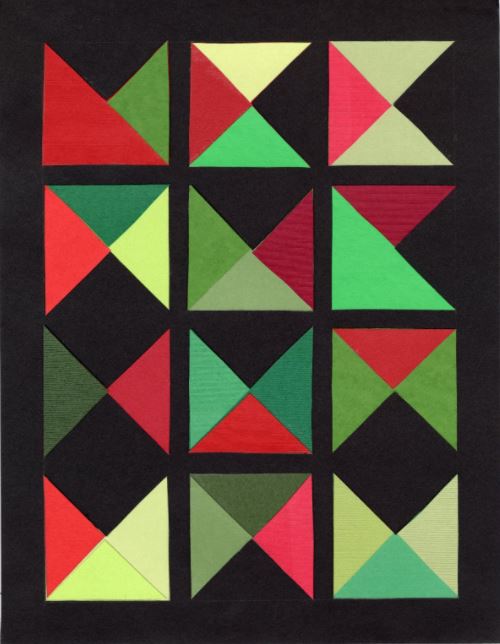 Cambridge Arts is the River Festival, Open Studios, Gallery 344, Sidewalk Poetry, Summer In The City, Community Supported Art, grants to artists, street performers, more than 280 works of contemporary public art in every neighborhood of the city, and a conservation program to preserve them for the future. We are the Cambridge Arts Council, a City agency that funds, promotes, and presents high-quality, community based arts programs for the benefit of artists, residents, and visitors in Cambridge. Active since 1974, Cambridge Arts is one of the most dynamic local arts agencies in the country. Cambridge Arts exists to ensure that the arts remain vital for people living, working and visiting Cambridge. Cambridge Arts embraces a vision that welcomes and supports everyone. Believing that a multiplicity of perspectives is essential to a strong society, we are committed, both in our policies and practices, to building participation in and awareness, understanding, and appreciation of the arts and all cultures. In our ongoing work to address cultural and historical inequities, we strive to be a community anchor that reflects the entire Cambridge community and expands access, opportunities, and inclusion in every form of creative expression. We value diverse voices and people of all ages, backgrounds, ethnicities, abilities, gender identities, sexual orientations, socioeconomic situations, religions, citizenship statuses, and family configurations. The City of Cambridge does not discriminate on the basis of disability. We will provide auxiliary aids and services, written materials in alternate formats, and reasonable modifications in policies and procedures to persons with disabilities upon request. For information contact Cambridge Arts: cambridgearts@cambridgema.gov, 617-­349-­4380 or TTY: 617­-492-0235.