4th Annual Ben Abercrombie Day at El Jefe's Taqueria: Tuesday, December 7th from 8am to 4am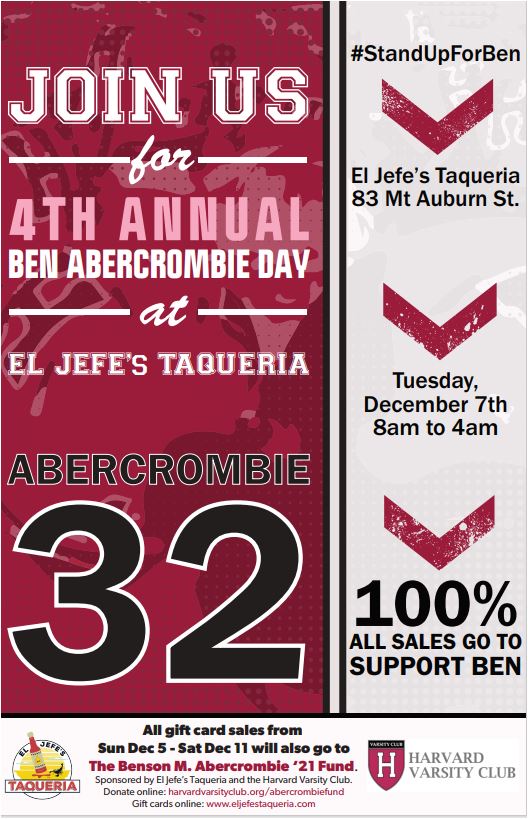 100% of proceeds benefit The Benson M. Abercrombie '21 Fund – $78,000 raised in first three years, expecting recorded breaking totals this year.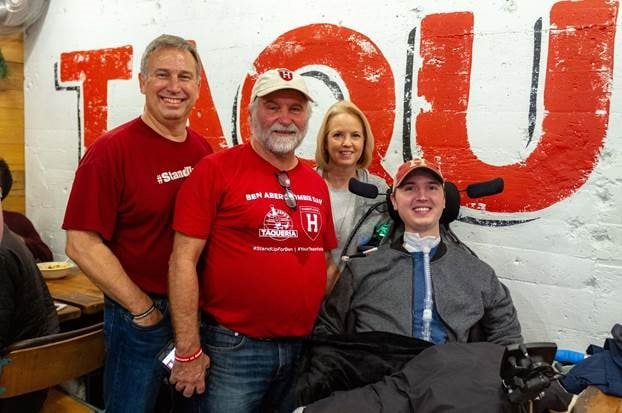 Online Dates: Sunday, December 5 – Saturday, December 11 — 100% of online gift card sales from December 5-11 will be donated to The Abercrombie Fund 
In-Restaurant Date: Tuesday, December 7 — 100% of proceeds from in-restaurant sales, online orders, delivery orders, and tips will be donated to The Abercrombie Fund
Time: 8AM EST – 4AM EST
Location: El Jefe's Taqueria – 83 Mt. Auburn Street, Cambridge
About The Benson M. Abercrombie '21 Fund
Ben was a two-sport star in football and baseball at Hoover High School in Hoover, Alabama, helping the Buccaneers win Alabama 7A State Championships in both sports (football in 2014 & 2016, baseball in 2017). He was selected All-State first team at the end of his senior year. Upon arriving at Harvard, Ben quickly became one of the most respected and talented players on the football field and was the only first-year on the defensive side of the ball to make the travel squad for the season opener at the University of Rhode Island. In his collegiate debut, Ben made a tackle that resulted in a catastrophic spinal cord injury and caused him to lose mobility and feeling throughout his body.
ESPN College GameDay Feature on Ben Abercrombie: https://www.youtube.com/watch?v=dvrQbtjBiR4&feature=emb_title
———————————————————————————————————————
After a year off due to the COVID-19 pandemic, El Jefe's Taqueria owner John Schall is striving to make the 4th Ben Abercrombie Day the biggest, best fundraising event yet.
For 20 hours on Tuesday, December 7th, from 8 am until 4 am, at El Jefe's Taqueria in Harvard Square all revenue, including tips, from in-person sales, online orders, and delivery orders will also be donated to The Ben Abercrombie Fund.
For those who can't be there in person, starting Sunday, December 5 through Saturday, December 11, El Jefe's will donate all online gift card sales at the Harvard Square restaurant to The Benson M. Abercrombie '21 Fund.
This way everyone wins!
To recap, you can participate in the 4th Abercrombie Day Fundraiser at El Jefe's Taqueria three ways:
During the week of Dec 5th to Dec 11th: Purchase an online gift cardfrom El Jefe's Taqueria-Harvard Square and 100% of the sale will be donated to The Abercrombie Fund.
On December 7th: Come into El Jefe's in Harvard Square, order online for pickup, or order delivery and every penny, including tips, will be donated to The Abercrombie Fund. Or if you can't wait in line for food, we will have a Harvard Football Helmet at the restaurant where you can drop off cash or check (made out to The Benson M. Abercrombie '21 Fund) donations all day long.
Anytime you want: Make a gift online by visiting www.harvardvarsityclub.org/AbercrombieFund.
The first three iterations of Abercrombie Day have resulted in more than $78,000 being donated to the Abercrombie Fund by El Jefe's owner John Schall, with more than 6,000 members of the Harvard community stopping by the restaurant to support Ben in his recovery.
For John Schall, the challenges facing Ben and his family are all too familiar. 44 years ago his own brother, Mike Schall, a highschool track star, was paralized in a car crash at the age of 18. That shared experience is what motivated him to start the fundraiser. And this isn't Schall's first time helping the family of a young athlete paralized by tragic events, as reported in 2011 by then columnist, and now editor, of the Boston Globe, Brian McGrory.
"El Jefe's isn't going to let the pandemic derail the 4th-annual Ben Abercrombie Day," commented Schall. "Instead, we are going to expand the fundraiser to include donating all online gift card sales for a whole week to Ben, so even if his friends and supporters aren't on campus, they can still donate by purchasing a gift card from our website. We will still donate all sales and tips from the restaurant on December 7, but we also wanted to offer a socially distanced way for people to support Ben. He is such a fighter and the least we can do is stand by his side and honor his determination and spirit. El Jefe's plans on supporting Ben and his family every step of the way – but we need everyone's help to blow this fundraiser out of the water on Tuesday, December 7."
"Ben Abercrombie Day at El Jefe's has the potential to be truly epic this year thanks to John's vision of taking this event virtual," Bob Glatz '88, The Broadbent Family Executive Director of the Harvard Varsity Club, stated. "The generosity of John Schall and the staff at El Jefe's continues to amaze me. We hope that thousands of students, alumni, faculty, staff, and members of the local community will join us in supporting The Abercrombie Fund."
Ben is continuing his Harvard education while remaining a member of the Harvard football program. He and his family continue to face an uphill battle, and the Harvard Varsity Club has committed to supporting Ben, and his family, throughout their journey. The Abercrombie Fund provides support to the Abercrombie family and any future Harvard undergraduate student-athlete who incurs a severe or catastrophic injury while competing for the Crimson while enrolled in Harvard College.
About the Harvard Varsity Club
The Harvard Varsity Club (HVC) is a group of undergraduate student-athletes, alumni, parents, and friends who have operated under the mission of preserving the traditions, fostering the ideals, and advancing the interests of Harvard Athletics since 1886.
As 'Your Team for Life,' the HVC provides professional development, mentoring, and career networking assistance to current and alumni student-athletes and brings all student-athletes together under one roof at events like the Senior Letterwinners'​ Dinner. The Varsity Club creates opportunities for alumni, parents, and friends to remain engaged with the Harvard Athletics community, preserves the traditions of Harvard Athletics with the Susan and Cory '90 Thabit Varsity Lettersweater and HVC Hall of Fame, and supports those in need through special assistance funds like the Benson M. Abercrombie '21 Fund and Michael Vollmer '90 Fund.​ To learn more about the Harvard Varsity Club, click here.
— Your Team for Life —
###