Temple Bar American Bistro
FacFacConveniently located between Harvard and Porter Square, Temple Bar offers a warm and welcoming charm. Accented by exposed brick, oversized mirrors, lights and booths and an oak enamored paneling, guests enjoy the buzz and excitement of Temple Bar. While waiting for a table, guests are drawn Temple Bar's unique copper bar. Alive with people, it offers guests a chance to unwind over conversation. The late night lounge scene brings a trendy and intimate atmosphere completed with Temple Bar's signature drink list. Mellow and intimate during the week and lively on the weekend, Temple Bar is a wonderful backdrop for any occasion.
A detailed approach to food preparation, execution and clarity of taste, the internationally-inspired bistro menu is punctuated with Temple Bar's broad-reaching wine list.  In the evening, guests can kick back with specialty cocktails at the bar or in a cozy booth. From entrance to exit, Temple Bar gives guests an upscale experience in a refreshingly peaceful setting.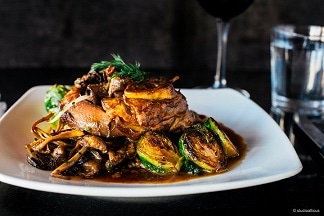 Brunch – Saturday and Sunday 10AM to 4PM
Dinner – Daily 5PM to 11PM
Late Night Menu – Thursday through Saturday until 12AM
Bar – Sunday through Wednesday until 12AM
Thursday through Saturday until 1AM
[[{"type":"media","view_mode":"media_original","fid":"6538″,"field_deltas":{},"link_text":null,"attributes":{"height":219,"width":328,"class":"media-image media-element file-media-original","data-delta":"2″},"fields":{}}]]