Welcome to the Bionic5K.  We celebrate the power of technology to enable ALL people to run together.
When: April 30, 2023
9:30 AM
Where: 41 Church St,
Harvard Square
Join adaptive athletes, local running gurus, and weekend warriors for a race that celebrates technology, sport, and the human spirit.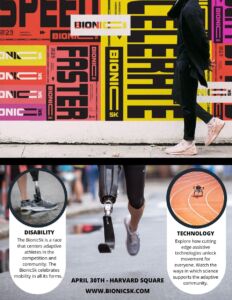 Why are we doing it?
The 5K is the #1 race distance in the United States. In 2016, 17,000 5K races were held in the US with over 8.2 million finishers. Typical races include one or two disabled athletes in a large crowd of participants. 1 We believe we can do something different.
By assembling a critical mass of amputee and disabled runners, we can break down barriers and normalize the experience of running alongside people with significant adaptations. In addition, by shining a light on the recent advances in science, technology and rehabilitation medicine, we can engage and inspire a broader group of people as volunteers, runners and supporters, building awareness of the incredible strides that are being made to end disability as we know it today.
Who are our key audiences?
Disabled and amputee runners
The local running community
People who work in the science and technology fields in the greater Boston area
People who work in health & fitness and sporting goods & apparel in the greater Boston area
The large student population (elementary, high school, and college) who may volunteer, run, or be inspired to study science, technology, engineering, art, and mathematics (STEAM)
Teachers who want a practical, real world example of STEAM in action to inspire a class project or a design challenge.
Parents of kids with disabilities to run and/or volunteer
Local media to help publicize the event before and after the race.
How will we engage them?
Create partnerships and sponsorship opportunities for local businesses; conduct assemblies and information sessions at targeted local schools; spread the word through a large social media presence; setup interactive informational booths at the start/finish line to highlight exciting new projects and technological advances; and finish the race with a large celebration – beer, food, camaraderie, and live music.
What is our overall positioning?
The Bionic 5K – where technology & human energy run together. Whether you are running with a prosthetic, an artificial hip or an upgraded knee, an Apple Watch or a fitbit, … join us, and run bionic with a combination of tenacity and technology.
What are the critical parts of our story?
Two of the three race founders are amputees themselves. One is the world's leading scientist in biomechatronics, one is an elementary school teacher, and one has staged and directed six 5K races in Harvard Square from 2011-2016. What will everyone get out of it? We will run together; we will sweat together; we will learn together; and we will celebrate the triumph of possibilities over disabilities together! Register today at www.bionic5k.com.