Aya Safiya & The Mediterranean Collective at Passim
July 31, 2019 @ 8:00 pm
| $13 – $15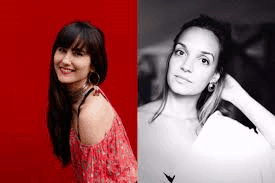 Aya Safiya
Folk
Global
Singer/Songwriter
Aya Safiya is an accomplished singer, songwriter, and violinist who specializes in interpreting traditional songs from the Mediterranean, the Rromani diaspora, and island cultures. With her hauntingly beautiful and emotional voice, she captivates her listener and puts them in a spell.
Aya fell in love with music the moment her father handed her a violin at age 6, and went on to study traditional Greek island violin intensively for over 20 years. However, she didn't limit herself to violin—she soon discovered singing and began to cultivate her voice. With guidance from master vocalists such as Eva Salina, Katerina Papadhopoulou, Kina Mendez, Merita Halili and many others, Aya has discovered her own voice within traditional music. She started performing as a vocalist at age 15, and has gone on to perform at Greek festivals in both the US and Greece, as well as at renowned venues such as The Freight and Salvage in Berkeley, The Great American Music Hall in SF, the Grand Prospect Hall in NYC, and the House of Blues in Boston.
Bay Area-born and currently based in Boston, Aya has traveled to the Balkans, Turkey, Greece, Italy, Okinawa, and Cuba in search of not only music, but also a deeper understanding of the traditions from which the music comes. She performs with numerous groups including Agapi Mou, Romantique, Sarma Brass Band, Taraf de Locos, The Aya & Tano Collective, and has recently been developing her solo set in collaboration with musicians from the vibrant international music scene in Boston.
The Mediterranean Collective
Folk
Global
Singer/Songwriter
Dedicated to the music of the Mediterranean and the Balkans, Tamara Jokic sings in eight languages, writes her own music, and performs in a variety of styles that are uniquely brought together in her own artistic expression.
Please Support Our Website Sponsors.
Thank you!