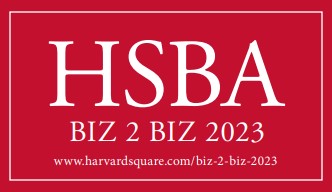 Harvard Square Business Association – Biz-2-Biz 2023
Where members offer each other special discounts.
All Members-in-good-standing of the Harvard Square Business Association can participate in our Biz-2-Biz discount program. If you are a member and would like to receive a Biz-2-Biz card please call the office at 617-491-3434.
Valid through December 31st, 2023
In order to redeem the offer a Harvard Square Biz-2-Biz Card must be present at the time of purchase unless otherwise noted
Abroad Modern, 292 Concord Ave.
Offer: 20% off
Terms: Show B-2-B card
Actors' Shakespeare Project
Offer: $10 off all ASP tickets with code HSBAMember.
Offer: 50% off tickets for any opening weekend performance with code HSBAOpening
Terms: None
Amorino Gelato, 50 JFK St.
Offer: 10% off
Terms: None
Barre & Soul, 36 JFK St.
Offer: $89 for an unlimited monthly membership to Biz-2-Biz members (normally $119).
Terms: To redeem, members can email me at hsq@barresoul.com and provide HSBA B-2-B card.
Brattle Theatre, 40 Brattle St.
Offer: 1 free small popcorn to any Biz-2-Biz member who buys a ticket to one of our screenings.
Terms: None
Cambridge Artists Cooperative, 59A Church St.
Offer: 10% off entire purchase
Terms: Sale Items Excluded
Commonwealth Wine School, 81 Mt. Auburn St. Unit 213
Offer: $20 discount to any Biz-to-Biz member. Use discount code: HSBAwine
Terms: None
El Jefe's Taqueria, 14 Brattle St.
Offer: 15% discount on all food and non-alcoholic beverages
Terms: Excludes alcoholic beverages
Harvard Crimson, 14 Plympton St.
Offer: One complimentary eighth-page ad (dimensions 5.75″ x 5.125″; valued at $320) per semester.
Terms: Must be an HSBA member and email ads@thecrimson.com
Harvard Square Parking Garage, 20 Eliot St.
Offer: 25% off any pre-paid parking debit cards. You can purchase $100 worth of parking for $75 with zero commitment!
Terms: Discount value is only available in whole dollar amounts. Remaining amounts do not expire by 12/31/23.

Living Harmony, 24 Harvey St.
Offer: 20% off your first personal or business organizing package
Terms: None
New England Jazz Collaborative
Offer: 20% discount on live music services.
Terms: None
Off the Beaten Path Food Tours
Offer: 10% off
Terms: Use code Biz2Biz at check-out
Origins, 8 Brattle St.
Offer: 10%
Terms: Present Biz 2 Biz card. Cannot be combined with promotional discounts.
Passim, 47 Palmer St.
Offer: 10% off shows and classes.
Terms: Use code- HSBA23
SEE Eyewear, 1276 Mass. Ave.
Offer: 20% off prescription eyewear.
Terms: Non-combinable with insurance.
Zinneken's, 1154 Mass. Ave.
Offer: 15% off
Terms: None
Zinnia Jewelry, 1300 Mass. Ave.
Offer: 10% off regular price items.
Terms: Excludes Sale Items
More offers being added soon!