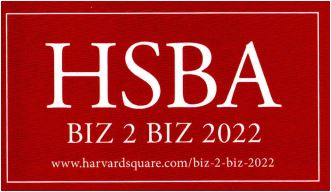 Harvard Square Business Association – Biz-2-Biz 2022
Where members offer each other special discounts.
All Members-in-good-standing of the Harvard Square Business Association can participate in our Biz-2-Biz discount program. If you are a member and would like to receive a Biz-2-Biz card please call the office at 617-491-3434.
Valid from January 15th – December 31st, 2022
In order to redeem the offer a Harvard Square Biz-2-Biz Card must be present at the time of purchase unless otherwise noted
Amorino Gelato, 50 JFK St.
Offer: 10% off
Terms: None
Chameleon Tattoo, 36 JFK St.
Offer: $100 off $250 tattoos
Terms: None
Chestnut Hill Realty, 1 Langdon St.
Offer: a $250 discount off the first month's rent at any of our Cambridge properties
Terms: None
El Jefe's Taqueria, 83 Mount Auburn St.
Offer: 15% discount on all food and non-alcoholic beverages
Terms: Excludes alcoholic beverages
Jose Mateo Ballet Theatre, 400 Harvard St.
Offer: $25 off the tuition of $150 for an Adult Introduction to Ballet course
Terms: None

Living Harmony, 24 Harvey St.
Offer: 20% off your first personal or business organizing package
Terms: None

Motto, 26 Church St.
Offer: 10% off
Terms: Excludes sale items
Off the Beaten Path Food Tours
Offer: 10% off
Terms: Use code Biz2Biz at check-out
Origins, 8 Brattle St.
Offer: 20%
Terms: Present Biz 2 Biz card. Cannot be combined with promotional discounts.
SEE Eyewear, 1276 Mass. Ave.
Offer: 20% off prescription eyewear.
Terms: Non-combinable with insurance.
SOURCE Restaurants, 27 Church St.
Offer: 10% off
Terms: Excludes alcohol
Zinnia Jewelry, 1300 Mass. Ave.
Offer: 10% off regular price items.
Terms: None
More offers being added soon!